Hiring for Success at Fieldless Farms
November 16, 2020
Cornwall Ontario – Fieldless Farms is a fast growing company that has had to expand their Cornwall workforce to meet growing demand for their product. They are are an inclusive employer that searches out talent wherever they can find it.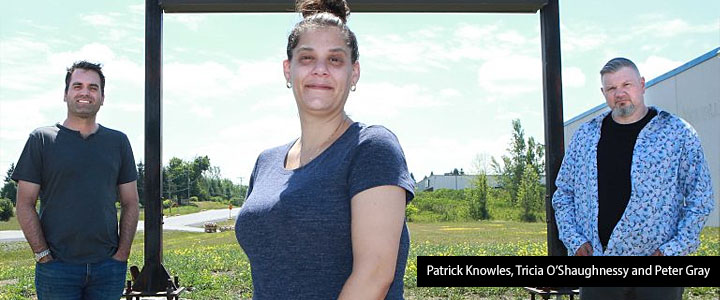 Patrick Knowles is the Director of Operations at Fieldless Farms, where they grow produce using innovative and new techniques.  They grow product indoors in Cornwall year-round using Controlled Environment Agriculture techniques. Mr. Knowles is constantly looking to find employees that could be dependable and fit in to the team and part of that process has been to get to know local organizations and programs that support workforce development.
He recently met Peter Gray, a Rehabilitation Consultant with the Inclusion Alliance, through an Ontario Works Program.   Mr. Gray works with persons with a disability and he assists them in establishing career goals and finding suitable employment.
The Inclusion Alliance is a consortium between Performance Plus Rehabilitative Care Inc. and Job Zone d'emploi. These two organizations have combined resources to deliver employment services to persons living with a disability in Cornwall, Akwesasne and the surrounding Counties of Stormont, Dundas and Glengarry.
Tricia O'Shaughnessy lives in the area and was seeking help with finding work, she joined the Inclusion Alliance and began working with Mr. Gray.  Mr. Gray did the labour market research and arranged for the introduction of Tricia to Mr. Knowles at Fieldless Farms.  It has been six months and she is still there working as a Production Worker tending to the produce and harvesting.  Tricia enjoys her job, and given the current times, she is very happy to be with Fieldless Farms.
"The people are good, I like working here and I like the work," Tricia says, "I hope to increase my hours but it is good to learn the job and I appreciate the opportunity."
She currently works part time; however Mr. Knowles hopes to have Tricia working full time as the workload increases.
"We have been working with Peter and the Inclusion Alliance for close to a year," says Mr. Knowles. "He has identified several of our employees for us and he has always been available to help with the onboarding process.  Tricia is working out great and I hope that she will eventually expand her hours and join us full time."
"The relationship with Peter and the Inclusion Alliance has been a great benefit to us, I can focus on the company and let him help us to find suitable workers for our employment opportunities."
About the Inclusion Alliance
The Inclusion Alliance is a consortium of two supported employment service providers that operate in the Cornwall area:
Job Zone d'emploi is a not-for profit organization that provides employment services through the Employment Ontario.
Performance Plus Rehabilitative Care Inc.  is a private company that provides supported employment services under the Ontario Disability Supports Program Employment Supports  (ODSP-ES).
The two organizations have joined together to provide the Supported Employment Program under the mandate of the Ministry of Labour, Training and Skills Development.
The Supported Employment Program provides supports to job seekers with a disability who are seeking to find meaningful employment. More information can be found here:
About Fieldless Farms
Fieldless Farms is a Canadian controlled environment agriculture company with farming operations in Cornwall and offices in Ottawa. The company helps communities reclaim their food chains with safe, reliable, delicious produce, all year long.