Hop Bomb Launches Line of Beer-Inspired Apparel
November 4, 2021
Cornwall Ontario – Craft beer fans can now look as stylish as the beer they drink with cool apparel from Hop Bomb Apparel Co.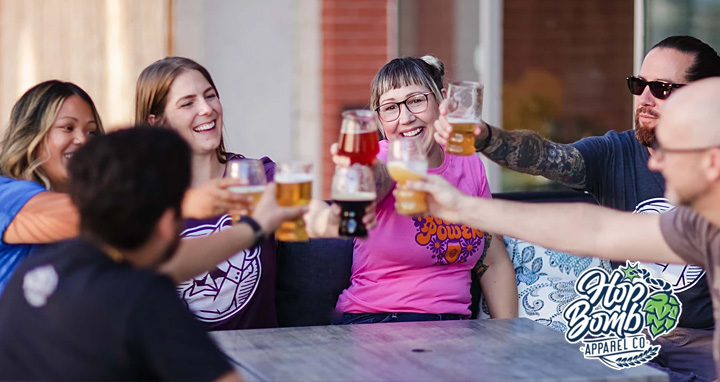 Hop Bomb Apparel Co. is the brainchild of local resident Jay Killoran, and the company's line-up of fun and stylish t-shirts is turning heads.
"Hop Bomb was created to complement the craft beer culture that has emerged in Canada over the past few years," says Mr. Killoran. "Now people can express their passion with our one-of-a-kind beer inspired designs."
Hop Bomb currently has 5 t-shirt designs, two of which feature the company's logo: a hop with a lit fuse.
"Hops are the ingredient that make craft beer sing," laughs Mr. Killoran. "It's like an explosion of flavour in your mouth."
Mr. Killoran knows what he is speaking about. He is a Prud'homme Certified Beer Sommelier, and while he does brew his own beer at home, there is nothing he likes more than exploring the latest offerings from local craft brewers. Prior to the pandemic he would organize dinners where Ontario craft beer would be paired with special meals created by local chefs and hosted at area restaurants.
"I had to pause the dinners for a while, and in doing so I found time to explore a concept that was fermenting about a craft beer clothing line," says Mr. Killoran. "My ideas came to life thanks to some very talented creative people in Cornwall."
Hop Bomb designs were created by local graphic designer Joe McNamara, printed on premium t-shirts in Cornwall by Mike's Printing & Apparel , and promoted via the stylish photos of Jason McNamara.
Hop Bomb Apparel Co. t-shirts are available online on the company's website, along with a selection of outdoor beer cups and stickers.  It is a selection that is expected to grow as Hop Bomb adds hoodies, hats and other gift items such as greeting cards.
"Feedback has been fantastic so far, and we're looking to hear what people would like to see next in the store," notes Mr. Killoran. "We definitely plan to offer seasonal items such as toques for the winter and tank tops for the summer."
You will have the chance to see Hop Bomb at the Merry & Bright Holiday Market at Cornwall Square on December 5th. The apparel company will also be showcasing their wares at a number of upcoming craft beer shows and festivals.
Hop Bomb Apparel Co. can be viewed online at: