In and Outdoors Cornwall is Open for Business
November 29, 2022
Cornwall, Ontario – If you hear the call of the great outdoors look no further than the In and Outdoors Store.
In and Outdoors Cornwall has opened its first 1000 sq ft retail location in the same plaza as Mrs. B's on Pitt Street.  The shop offers a wide selection of fishing, camping, and hunting gear as well as some unique handmade finds.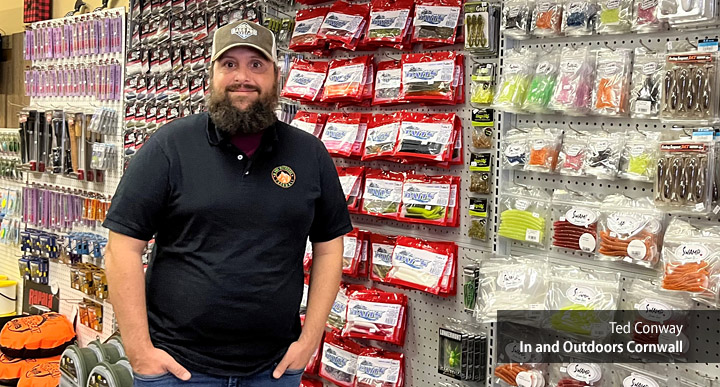 In and Outdoors is operated by local owner Ted Conway, with the support of his wife Mary Hart and family. As a big outdoor enthusiast, he wanted to provide Cornwall and area with an option for all their fishing and hunting needs.
"It's been really good," says Mr. Conway. "I wanted to create a place that welcomed families interested in the same outdoor adventurer that my family enjoys."
Mr. Conway works with local suppliers as much as possible like Williamstown's Ken Zaroo, who makes bottom bouncers and a variety of fishing lures.  The four-season shop is getting ready to welcome ice fishermen who are prepping to fish the winter on the St. Lawrence.
"The St. Lawrence River has some of the best fishing around," says Mr. Conway. "My daughters like to fish for Bass and Perch but my favourite is Walleye."
The retail store has applied to sell fishing licenses and will be growing their product lines as the seasons change. Customers can also visit the website to help find in-stock items.
In and Outdoors Cornwall is open seven days a week: Monday, Tuesday, Saturday from 9:00 am to 5pm, Thursday and Friday from 9:00 am to 7:00 pm and Sunday, 10:00 am to 3:00 pm.
The store is located at 609 Pitt Street, in the same plaza as Giant Tiger.
Connect online: