Interest in Cycling Rolls to New Heights
June 4, 2020
Cornwall Ontario – Cycling in Cornwall has always been popular, but perhaps never more so than this spring.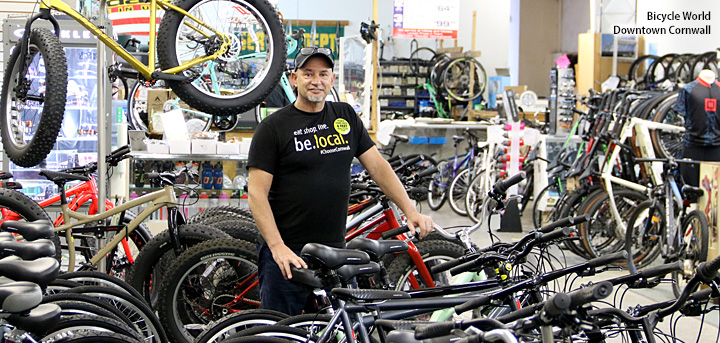 Interest in cycling has grown exponentially in the wake of the pandemic, with a whole new audience of new and returning cyclists seeking out adventure on two wheels.
The phone has been ringing off the hook at local bike shops and new bicycles have been flying off the showroom floors. Bicycle tune-ups are also in high demand.
"There's no team sports this year and parents want to keep everyone in the family active," says Al McGimpsey of Bicycle World in Downtown Cornwall.
McGimpsey said they are seeing both new and long-time, loyal customers and they're also getting calls from customers in Ottawa, Montreal and beyond. Some are seeking new rides while others are dusting off old bikes and bringing them in for service.
"We're seeing everything," he added.
It's a similar story a bit further north on Pitt Street at Total Cyclery & Sports. As one example of just how busy it is, there's now a shortage of 26-inch bicycle tires – a size used on older model bikes but no longer in use on newer models.
"People are pulling their bikes out of their basements (and getting them fixed up)," said shop owner Dean Neville. "People have more time on their hands and they have more time for recreation."
At the longstanding Kalrim Cycles & Sports on the eastern edge of town, there's only a handful of bicycles left on the floor. Owner Cookie Kalsi said his Trek and Electra bikes have been flying out the door to eager customers in the Cornwall area and across eastern Ontario and Quebec.
"We are swamped with repairs too," Kalsi added.
Beyond the health benefits, cycling is an easy activity to enjoy in Cornwall given the tremendous network of trails and cycling amenities that exist. One can do a loop of the entire city on trails and dedicated bike lanes while the famed Waterfront Trail offers tens of kilometres of adventure on dedicated trails right along the river's edge, stretching from Cornwall to Upper Canada Village and beyond.
"The cycling in Cornwall is awesome and it's safe. You can take your family out and it's a safe activity," Neville added.
Kalsi notes that cycling is a perfect activity for a trying time such as this, and Cornwall offers a beautiful area to explore on two wheels.
"When you get on a bike, it's a beautiful way to get some stress relief," he added. "Riding a bike, your mentality changes completely. Your mind works in different ways and you see different things."
All three local shops offer service and repairs, although given current volumes, there could be a wait of two or more days. The shops are all open to walk-in traffic with physical distancing measures in effect.
For more information, call or visit:
Bicycle World
150 Pitt Street
613-932-2750
Total Cyclery & Sports
241 Pitt Street
613-938-8585
Kalrim Cycles & Sports
850 Boundary Road
613-937-4488
Categorised in: Business, Community, Environment, General, News, Sports