Jamie Carr Opens Podcast Studio in Cornwall
January 15, 2021
Cornwall Ontario – One of Cornwall's most familiar voices is now in the business of helping others find theirs.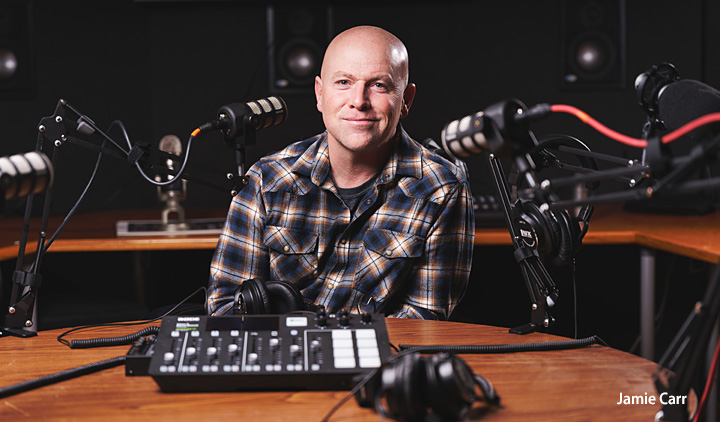 Jamie Carr has opened a podcast studio in Cornwall's west end, providing everything you might need to make a professional sounding podcast.
The studio is equipped with four professional level RODE podcast microphones, headphones and recording equipment, offering users the ability to remotely record live calls into their podcast from remote guests.
"The interest in podcasts has never been higher, both from a listening and a creating point of view," says Mr. Carr. "The studio provides a local option for people interested delving into this exciting new field."
A podcast is typically a series of episodes that feature a host speaking about a topic or current event, with or without guests. The recorded session can then be downloaded or streamed for listening at the subscriber's leisure.
It is estimated that there are over 100 million podcast listeners in North America, with the average listener subscribing to 7 podcasts per week.
A voice actor and comedian, Mr. Carr has carved out a career for himself in the competitive world of voice acting, lending his talents to tv shows such as Come Dine With Me Canada, Finny the Shark, Cutie Pugs, Mighty Planes and variety of commercials.
Mr. Carr is sharing his knowledge and experience in a series of workshops targeted at people interested in voiceover work as a profession.
"The workshops offer an honest look into the world of voiceover and what I've learned over the last 15 years," says Mr. Carr. "I am happy to share tips and techniques that will position people for success – things I wish I known when I was starting out."
Participants go through the entire process of auditioning with scripts and then record their auditions in studio with direction, like they typically would in a real session.
You can learn more by visiting Mr. Carr's website at: