Job Zone d'emploi Connecting Job Seekers to Employers
April 16, 2020
Cornwall Ontario – As our community continues to adapt to the coronavirus crisis, many of our local agencies have adapted as well. This includes Job Zone d'emploi which remains committed to providing employment services to job seekers and employers.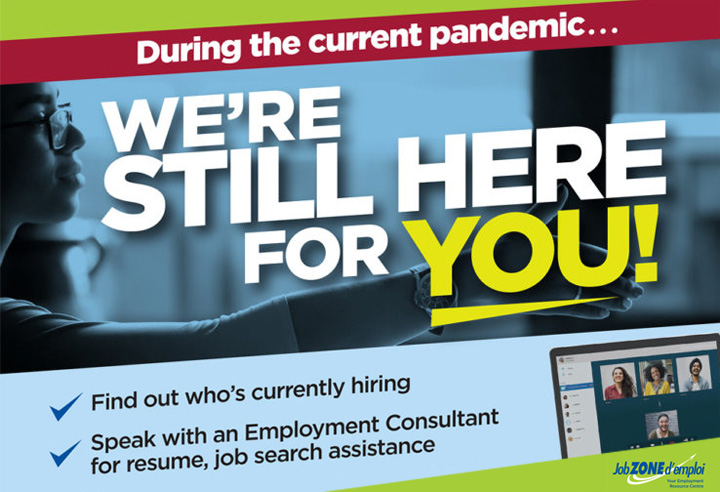 "The Job Zone d'emploi team is still here for our clients during these challenging times, even if 'here' may mean virtual," says Kim Arbic, Program Manager with Job Zone d'emploi. "Although our physical office may be closed to the public, our staff is connecting with job seekers and employers in other ways."
Job Zone d'emploi continues to provide key resources to people looking for employment, now more important than ever due to the significant disruption in the workforce as a result of the pandemic forcing many businesses to close or cut back operations.
The agency is offering virtual employment counselling via Zoom, phone, email and text. Online booking times have been increased to better serve new clients wanting to register for employment support. Staff are able to complete new registrations over the phone as well.
Job Zone d'emploi will soon be offering job readiness workshops online; both live and pre-recorded. The agency continues to provide assistance with Second Career for clients looking to conduct online schooling and is also exploring options to be able to offer the Youth Job Connection program online.
When it comes to employers, Job Zone d'emploi can still provide a number of support services including posting employment opportunities. Job Zone d'emploi administers the Canada Ontario Job Grant program for employers looking to train staff, via online third party trainers.
You can contact Job Zone d'emploi at 613-933-9675 or in Winchester at 613-774-5627 or online.
About Job Zone d'emploi
Job Zone d'emploi has been providing assistance and helpful resources to employers in the City of Cornwall and counties of Stormont and Dundas for over 30 years. Job Zone d'emploi offers a variety of bilingual employment related programs and services, and is located at 144 Pitt Street in Downtown Cornwall. Information can be found on their website at:

We summarize the latest news about the impacts of COVID-19 on Cornwall businesses on a daily basis. Click on the following link to view: