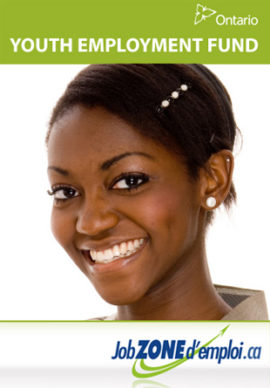 Job Zone Given Additional Funding For Youth Employment Fund
September 26, 2014
Cornwall Ontario – Young people often face unique barriers when it comes to finding sustainable employment. One of those barriers is lack of experience, and the Government of Ontario is looking to help youth in that regard.
The Youth Employment Fund offers a number of financial incentives that make matching job seekers with potential employers that much more attractive. The fund, which facilitates job placement and training, is available to young workers who meet the following criteria:
resident of Ontario
between the ages of 15 and 29
unemployed
not attending school full-time.
Job Zone d'emploi is the co-ordinating agency that is responsible for placing eligible youth with employers in the counties of Stormont and Dundas. The agency has conducted 239 placements with employers in Cornwall and the surrounding region since November 2013.
The agency would like to conduct an additional 50-60 placements this year.
The program offers a number of benefits to employers. Up to $7,800 per participant is available for a combination of individual supports, training supports and employer hiring incentives. The benefit to the job seeker is a personalized job placement that fits their skills, job experience and skills upgrading, along with funds to help pay for job-related costs like tools and transportation to work.
"The customer service provided by Job Zone d'emploi is excellent," says John Lebrun, owner of John Lebrun Construction. "The Youth Employment Fund provides many benefits to employers including screening, on the job support and training incentives."
About Job Zone d'emploi
Job Zone d'emploi has been providing assistance and helpful resources to employers in the City of Cornwall and counties of Stormont and Dundas for over 29 years. Job Zone d'emploi offers a variety of bilingual employment related programs and services, information can be found on their website at:
The Glengarry Interagency Group is the co-ordinating agency for the Youth Employment Fund in North and South Glengarry.