Job Zone Holding Virtual Job Fair
February 15, 2022
Cornwall Ontario –  People looking for a new job have two dates to mark on their calendar, thanks to the good folks at Job Zone d'emploi.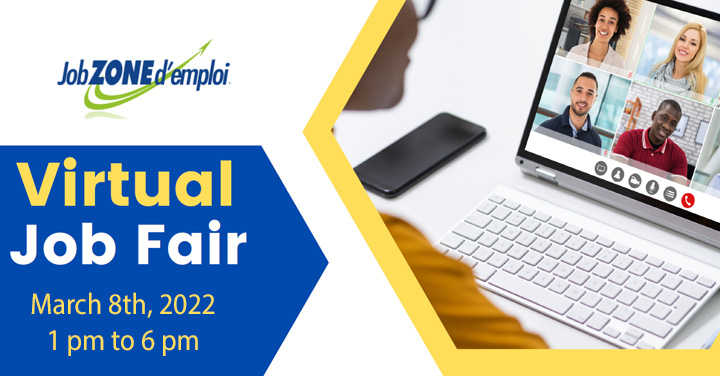 Job Zone d'emploi is hosting a virtual job fair on March 8th that will connect job seekers with local employers. And a week prior on March 2nd, the local employment agency will hold a workshop for people looking to improve their interview skills.
"Local companies are looking to hire, and our role is to help match job seekers with the right employer," says Kim Arbic, Director of Community Relations with Job Fair. "We encourage people to register for both the workshop and job fair."
 Virtual Job Fair  – March 8th, 2022, from 1 pm to 6 pm
Each employer will have their own virtual booth with virtual rooms wherein they can meet prospective job seekers. Click on the following link to register:
Interview Skills Workshop – March 2nd 2022 at 10 am
Land that virtual interview! Click on the following link to register for the 1 hour interview skills workshop:
There is no cost to attend either the Workshop or Job Fair.
Available Jobs
There are an estimate 500 jobs available in Cornwall at the current time. A list of available jobs can be found on the ChooseCornwall.ca Job Board.
Employers
Employers who are interested in participating in the virtual job fair or would like additional information, should contact Sid Shevde at 613-933-9675 ext 307, before February 22nd.
About Job Zone d'emploi
Job Zone d'emploi has been providing assistance and helpful resources to employers in the City of Cornwall and counties of Stormont and Dundas for over 35 years. Job Zone d'emploi offers a variety of bilingual employment related programs and services, and is located at 144 Pitt Street in Downtown Cornwall. You can contact Job Zone d'emploi at 613-933-9675 or in Winchester at 613-774-5627. Information can be found on their website at: