Joe's Quality Meats a Welcome Addition to Downtown Cornwall
November 19, 2020
Cornwall Ontario – The dream has become reality for local resident Joey Jodoin with the recent opening of Joe's Quality Meats & Prepared Meals.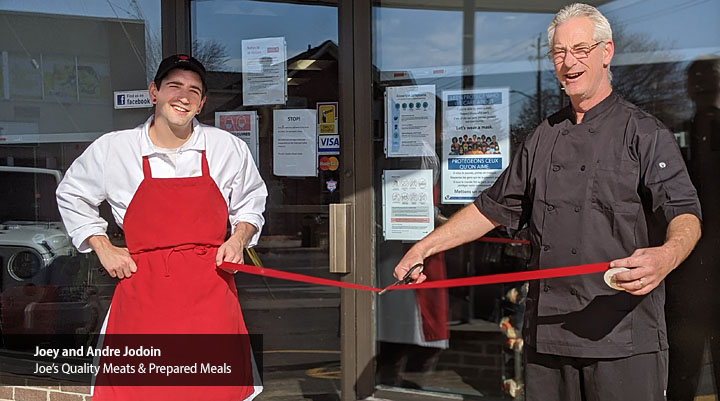 Joe's Quality Meats is a full service meat shop located at Pitt and Fourth Street in Downtown Cornwall. In addition to offering professional butcher services and a fresh meat counter, the business is also offering a lineup of prepared meals that has quickly become popular with local residents.
"I am so thrilled to be able to open the meat shop in partnership with my dad Andre", said Mr. Jodoin.  "I am the butcher, and my dad is a great cook so he is handling the prepared meals side of things."
Becoming a butcher wasn't always part of the life plan. In fact, Mr. Jodoin was studying video game development in Ottawa when he took a part time job at a supermarket.  While working there he began to take a keen interest in the trade.  A move back to his hometown of Cornwall soon became important to him as did the idea of entrepreneurship.  The slower pace of life and the lower cost of living certainly played a large part in that decision, but being closer to family was the main focus.
Mr. Jodoin's vision was for a hometown shop that offered the best customer service possible – where every customer would feel welcome. He shared his ideas with his parents and the entire family jumped on board.  Joining Joey and his father Andre are his mother Lise and sister Melanie. Each family member have committed to the new venture full time, and each brings a unique skill set to the table.
Joe's Quality Meats offers a wide range of beef, chicken and pork, as well as deli cuts, Rubschlager Bavarian, Weston, D'Italiano and Deli World Breads and Joey's own Tasty Jerky. Prepared meals include Shepherd's Pie, Lasagna, Chicken Fetuccini Alfredo, Sweet Honey Garlic Spare Ribs, and Chicken Fried Rice – just to name a few. Cheesecake lovers should take note: they also carry Cheescakery Bakery Cheesecake in a multitude of flavours.
The shop has an open-concept allowing customers to see the butcher and kitchen areas while Joey and Andre work.  Supporting local sources is a top priority with as much product being purchased locally.  All meat is sourced from Canadian farms.
Joe's Quality Meats is located at 407 Pitt Street and is open Tuesday through Saturday from 9am to 5pm. The shop can be reached at 343-585-0185 or online via Facebook: