KATEK to Acquire SigmaPoint Technologies
April 8, 2022
Cornwall Ontario – A leading European electronics company is in the process of acquiring SigmaPoint, a deal that will provide advantages to both companies.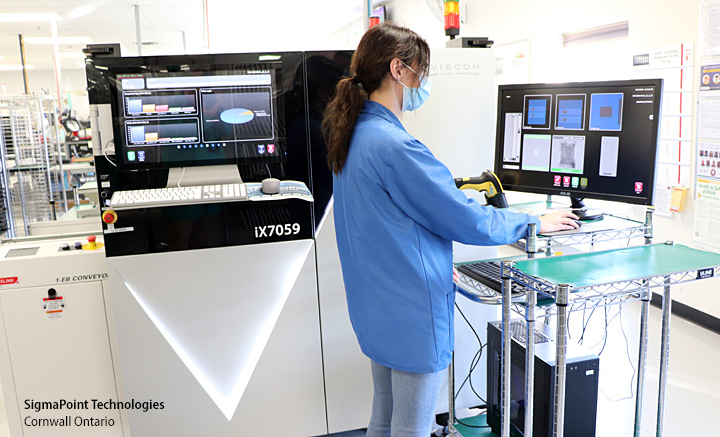 KATEK SE has signed a comprehensive, exclusive term sheet for the acquisition of all shares in Cornwall based SigmaPoint Technologies. Once the deal is concluded, SigmaPoint becomes the North American production division for KATEK and adds to their compliment of 15 other global locations. The SigmaPoint name and business unit will remain unchanged. CEO & President Dan Bergeron, along with the full management team, will continue to lead SigmaPoint after the acquisition.
"We are looking forward to the partnership with KATEK Group," says Daniel Bergeron, CEO SigmaPoint. "Our two companies have a lot in common, most notably our work culture, customer-centric values ​​and lean principles."
SigmaPoint is one of the leading electronics service providers in Canada and is known for its decades of high quality production based on strict lean principles in the field of high-value electronics. In addition to the medical, industrial controls, embedded electronics and IoT sectors, SigmaPoint is opening new markets for KATEK in the homeland security and defense sectors.
"As the number three electronics service provider in Europe, we are making good on the promise to our European customers of a presence on the North American continent," says Rainer Koppitz, CEO of KATEK. "The very good match between corporate culture and values ​​was also decisive. This will make it much easier to leverage the large existing synergies in the areas of sales, supply chain and lean manufacturing."
Mr. Bergeron sees the merger as an important milestone for SigmaPoint that few companies ever achieve. Becoming the first KATEK Group company in the American market is a testament to the outstanding SigmaPoint team and rapidly scaling business.
"I am extremely proud of our 280 employees and I am incredibly excited about the potential that will open up for our customers, the team and the local community in the years to come," notes Mr. Bergeron. "Our partnership represents an extension and strengthening of our supply chain, design support, rapid prototyping and global distribution services."
The negotiation of the associated share purchase agreement should be concluded shortly with the closing planned for the end of Q2 at the latest. The transaction is subject to the necessary official approvals, such as the competition authorities.
Available Jobs
SigmaPoint is currently recruiting to fill open positions. You can find the job postings on the ChooseCornwall.ca Job Board:
About SigmaPoint Technologies
SigmaPoint Technologies is an Electronic Manufacturing Services (EMS) partner supplying end-to-end assembly services for intricate electronic products within the computer, telecommunications, defence, alternative energy, medical, industrial, and transportation markets. The company is headquartered in a state-of-the-art manufacturing building in the Cornwall Business Park.