Kayak Rentals Now Available at Guindon Park
July 5, 2021
Cornwall Ontario – A new outdoor adventure company is helping people see the St. Lawrence in a whole new way.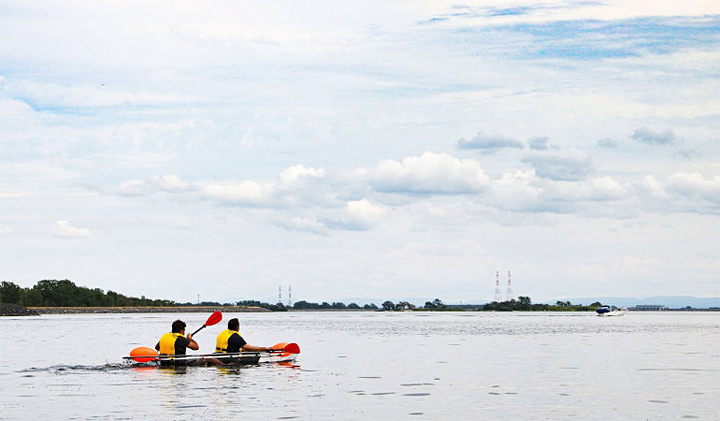 Boatingery Adventure Trends is now offering transparent kayak rentals for the season from the Trillium Drive entrance of Guindon Park in Cornwall's west end.
The two-seater kayaks are clear to allow paddlers to see below them as they row along. This neat feature is even more interesting when you consider Guindon Park is a stone's throw from two of the Lost Villages that were inundated in the 1950s to make way for the massive St. Lawrence Seaway and Hydro Project. Mille Roches was immediately east and south of the point at Trillium Drive while Moulinette was just to the west. On clear days, remnants of the villages – pieces of roadway, foundations and other markers – can be seen below, so kayakers should keep their eyes peeled below.
On top of the amazing history below the water, kayakers can also enjoy amazing views above, with big skies and the Adirondack Mountains forming a picture-perfect backdrop for the panoramic view of Lake St. Lawrence.
"There is a lot of interesting history here and it really is a beautiful site," said Imran Haider.
Imran and business partner Shazad Ahmad decided to launch the kayak rental service in Guindon Park after their research for a new location in eastern Ontario led them to Cornwall.
"We are excited to be in Cornwall and to offer this service to residents and visitors," added Ahmad.
Boatingery will be open seven days a week – weather permitting – from 10 am to 8 pm and the kayaks can be rented for two-hour intervals for $45. Life jackets are supplied and the duo provide a bit of training as well for newcomers. For safety reasons, users are also asked to stay within a 'safe zone' within eyesight of the launch site.
The duo have already welcomed a number of customers and the reviews have been favourable.
"We've had a number of people, both locals and visitors, try out the kayaks and they've enjoyed it. They are very durable and safe," Haider said.
Rental Info
To rent a kayak, call or text 514-817-6494 or 647-917-2628 to reserve or drop in to the Trillium Park site and book on the spot (space permitting). Rentals are currently offered on a two hour interval, beginning at 10 am, 12 pm, 2 pm, 4 pm and 6 pm. Cash, debit and credit cards are accepted.
#ExploreCornwallON
Looking for other fun things to do in Cornwall? Check out the Cornwall Tourism website for other fun-filled activities to keep you busy: