Kitchen Table Talk to Focus on Inclusion, Diversity and Community Growth
November 11, 2019
Cornwall Ontario  – Take your place at the table and join Mayor Bernadette Clement for a Kitchen Table Talk about inclusion, diversity, and community growth.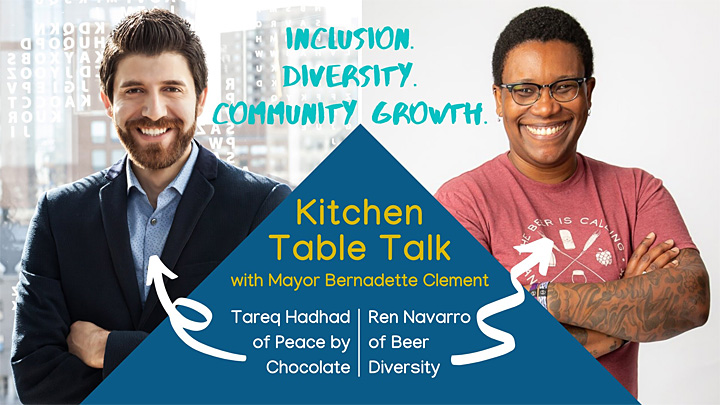 On Thursday, Mayor Clement will welcome Tareq Hadhad and Ren Navarro to the auditorium stage for a frank discussion on how the above themes are key to entrepreneurship, business growth, collaboration, and creating a welcoming community.
Tareq Hadhad arrived in Canada as a Syrian refugee in 2015 and is now the founder and CEO of  a growing business, Peace by Chocolate. After his family's Syrian home and chocolate factory were destroyed in 2012, Mr. Hadhad and his family were welcomed to Canada on a community-based sponsorship. Passionate about peace and entrepreneurship, they relaunched the family business to recreate the chocolates they once exported across the middle east. The story turned into an internationally-inspiring phenomenon, and Mr. Hadhad has subsequently at Amnesty International's Human Rights Conference and other events around the world.
Ren Navarro is highly regarded in the craft brewing industry, spending several years in the field as a sales representative for renowned and award-winning breweries. She is co-founder and former co-organizer of the Society of Beer Drinking Ladies, a Toronto-based monthly beer event that provides a safe and relaxing atmosphere for female-identified people. Her fervent love of the craft beer world and her determination to bring it to a more diverse audience has helped her champion change both in and out of the industry. She has talked extensively about diversity in workshops, conferences and in media interviews.
The Kitchen Table Talk event is one of a series of events planned by the Mayor's Office. It will take place Thursday November 14 from 5:30pm to 8:00pm at the NAV CENTRE.
Registration
This is a free event thanks to partnership support from Rurban Brewing, NAV CENTRE, the Social Development Council and Cornwall Economic Development. Seating is limited, and interested people as asked to register in advance: