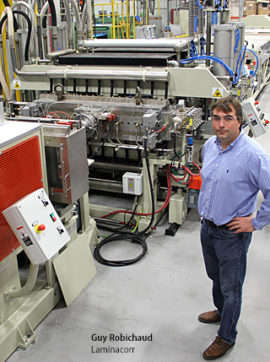 Laminacorr Doubles Plant Capacity With New Extruder
December 11, 2015
Cornwall Ontario – Laminacorr has doubled the production capacity of their plant in the Cornwall Business Park with the purchase of a state of the art plastic extruder.
It is part of a $2.5 million investment in new technology that is fuelling double digit growth rates for the company.
"The new line will help us meet the growing needs of our customers," says Guy Robichaud, President of Laminacorr. "The machine is fully installed and meeting every expectation."
The extruder was custom built to Laminacorr's specifications by Italian machine manufacturer Ompia. The technologically advanced machine is water-cooled and is not only faster, quieter and more efficient than Laminacorr's old extruder, but it can also be reconfigured mid-run offering Laminacorr unparalleled flexibility and quality.
"We looked at a number of manufacturers, and while there were less expensive options, we wanted to work with a company that will still be here 20 years from now – because we plan to be," says Mr. Robichaud.
To facilitate the installation of the new machinery, Laminacorr turned to local companies such as Bergeron Electric and Ladouceur Mechanical for support.
"We have very professional trades people in the Cornwall area," says Mr. Robichaud.
In addition to the extruder, Laminacorr has also purchased a new screen printing machine that will allow them to print on the plastic sheets they manufacture. Mr. Robichaud is particularly happy that his company is creating new job opportunities for young people, including his daughter Fiona who will be leading a company effort to develop new skills such as lean manufacturing.
"It is important that we upgrade our skills and embrace new methodologies," says Mr. Robichaud.
Once all of the machinery is installed, Laminarcorr will be a vertically integrated manufacturer that takes raw plastic pellets, extrudes and converts the sheets, and prints as needed. "I'm a manufacturing guy," says Mr. Robichaud. "I like to make things."
About Laminacorr
Laminacorr was established in 1998, and now employs 36 people. It moved into its current Cornwall Business Park facility in 2013. The company has grown to become the largest laminator of corrugated plastic in North America. The company re-processes scrap and used product, making its processes very environment friendly.
You can learn more about Laminacorr and the products it makes on its website: