Laminacorr Expands Scope of Operations
November 1, 2019
Cornwall Ontario – Laminacorr has increased the scope of its manufacturing operations with the purchase of a new converting machine.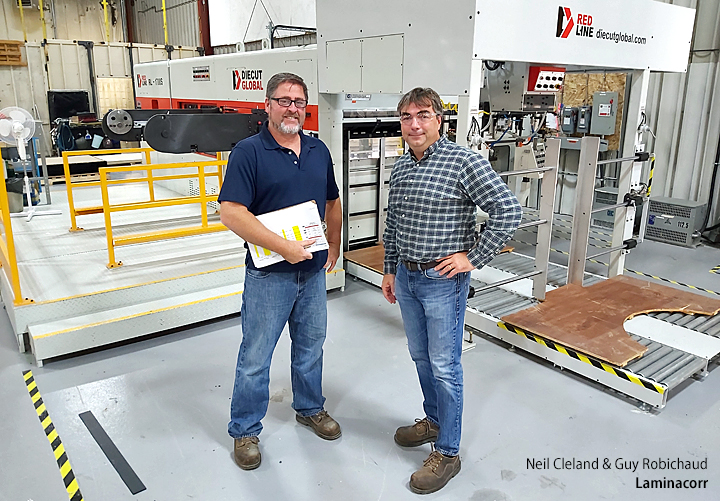 The machine allows for the efficient conversion of corrugated plastic sheets into custom shapes that can then used for signs or to create other structures, such as foldable boxes that are used in the seafood and agriculture industries. The machine, which cost $500,000, features state of the art technology and can process 3500 sheets per hour.
"We continue to add more value to our process and this new investment increases our ability to compete," says Neil Cleland, Laminacorr's Director of Operations.
Last year Laminacorr doubled the production capacity of their plant in the Cornwall Business Park with the installation of a third plastic extruder that was built to the company's specifications. All three extrusion lines now run the same software and use the same technologically advanced components, offering Laminacorr unparalleled flexibility and quality.
In order to facilitate the increased production, Laminacorr completed a 20,000 square foot addition its manufacturing facility in the Cornwall Business Park. Employment has also grown.
"We continue to pursue new business with an added focus on reducing our environmental footprint," says Guy Robichaud, President of Laminacorr. "Plastic boxes have a longer lifespan than cardboard, and can be reused time and time again. Our facility is almost zero waste with all trim material recovered and reused. Our ultimate goal is to extend our efforts down the supply chain and work with our customers to recover waste material.
About Laminacorr
Laminacorr was established in 1998 and moved into its current Cornwall Business Park facility in 2013. Now employing 80, the company has grown to become the largest independent corrugated plastic products manufacturer in North America. The company re-processes scrap and used product, making its processes very environment friendly. In 2018 & 2019, Laminacorr was named one of Canada's Fastest-Growing Companies by Maclean's and Canadian Business magazine.
You can learn more about Laminacorr and the products it makes on its website:
You can search for job opportunities with Laminacorr on the Choose Cornwall Job Board.