Laminacorr Lands on Growth 500 List
September 13, 2018
Cornwall Ontario – The ongoing growth of Laminacorr Industries in Cornwall is gaining national recognition.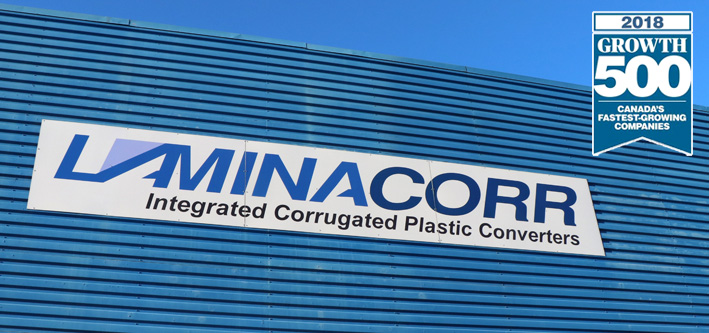 Canadian Business and Maclean's have ranked the Cornwall plastics manufacturer No. 375 on the Growth 500 list, the definitive ranking of Canada's Fastest-Growing Companies. Produced by Canada's premier business and current affairs media brands, the Growth 500 ranks Canadian business on five-year revenue growth.
Laminacorr Industries Inc. made the 2018 Growth 500 list with five-year revenue growth of 157 %. The company has also steadily expanded production at its facility in the Cornwall Business Park.
"Laminacorr Industries is honored to be on the Growth 500 ranking, "says CEO Guy Robichaud" This achievement reflects our vision and commitment to become a world class manufacturer of innovative corrugated plastics products. We share the accomplishment with our dedicated and persistent employees that have shown exceptional dedication to become a leader in our Industry".
Growth 500 winners are profiled in a special print issue of Canadian Business published with Maclean's magazine and online at CanadianBusiness.com and Growth500.ca
"The companies on the 2018 Growth 500 are truly remarkable. Demonstrating foresight, innovation and smart management, their stories serve as a primer for how to build a successful entrepreneurial business today," says Deborah Aarts, Growth 500 program manager. "As we celebrate 30 years of the Canada's Fastest-Growing Companies, it's encouraging to see that entrepreneurship is healthier than ever in this country."
About the Growth 500
For 30 years, the Growth 500 has been Canada's most respectable and influential ranking of entrepreneurial achievement. Ranking Canada's Fastest-Growing Companies by five-year revenue growth, the Growth 500-formerly known as the PROFIT 500-profiles the country's most successful growing businesses. The Growth 500 is produced by the Canadian Business. Winners are profile in a special Growth 500 print issue of Canadian Business (packaged with the October issues of Maclean's magazine) and online at Growth500.ca and CanadianBusiness.com. For more information on the ranking, visit Growth500.ca.
About Canadian Business
Founded in 1928, Canadian Business is the longest-serving and most-trusted business publication in the country. It is the country's premier media brand for executives and senior business leaders. It fuels the success of Canada's business elite with a focus on the things that matter most: leadership, innovation, business strategy and management tactics. Learn more at CanadianBusiness.com
About Laminacorr
Established in 1998 Laminacorr is a fully integrated corrugated plastics products manufacturer, servicing the reusable packaging market as well as agricultural and graphic arts industry. As the only Canadian own company we are proud to say that we have become the largest independent corrugated plastics manufacturer in North America. Our products are fully recyclable making our process environment friendly.