LCBO Opens New Store in Cornwall
March 5, 2021
Cornwall Ontario – The LCBO has opened its new store in the SmartCentres plaza at 430 Ninth Street West.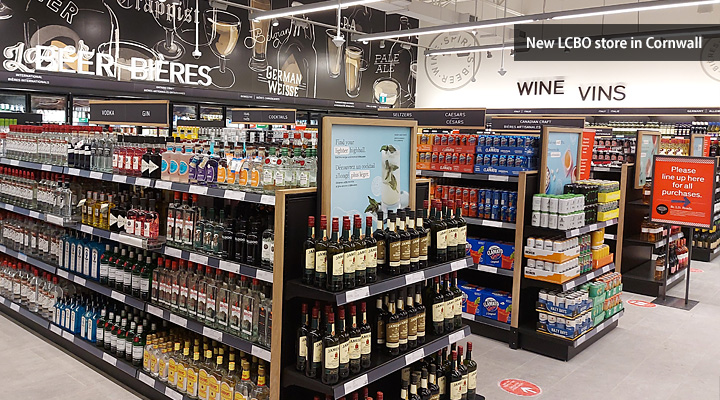 The new 7,033 square-foot store has nearly 4,320 square feet of display space and carries a wide selection of 1,660 beverages.
The store layout is more efficient and coupled with new shelving, staff can now stock more product per square foot than the old store which was located across Brookdale Avenue. It also features 176 linear feet of refrigerated shelving, which offers a wide selection of Ontario craft beers as well as other domestic and imported brands, ready-to-drink cocktails and coolers. There is also a chilled wine section that features 32 linear feet of refrigerated wine. The store has a prominent Ontario wine display showcasing over 170 Ontario wines, including 120 VQA wines.
The store's product mix is the result of market research, matching products and services to local tastes, demographics and community interests, and includes an assortment of made in Ontario products.
The store will provide convenient and one-stop beverage alcohol service to over 47,000 residents via 15 full-time and part-time employees who are trained in product knowledge and responsible service.  LCBO's research projects that the local population will grow 9 per cent over the next 10 years.
Additional Info
Store hours of operation are Monday to Saturday, 10:00 a.m. to 9:00 p.m., Sunday, 11:00 a.m. to 6:00 p.m.
There are four checkouts and the store is wheelchair accessible.
About the LCBO
The LCBO (Liquor Control Board of Ontario) is an Ontario government enterprise and one of the world's largest buyers and retailers of beverage alcohol. Through more than 660 retail stores, catalogues, e-Commerce, special order services, close to 400 LCBO Convenience Outlets, which provide cost effective, convenient and socially responsible access for rural consumers, and as wholesaler to almost 450 Grocery stores, the LCBO offers more than 28,000 products annually, from more than 80 countries, to consumers and licensed establishments.