Leclerc Group Receives Major Boost From Ontario
November 22, 2019
Cornwall Ontario –  Ontario is investing more than $1.5 million to support Leclerc Group, which has established a new 150,000 square foot food processing and production facility in Cornwall.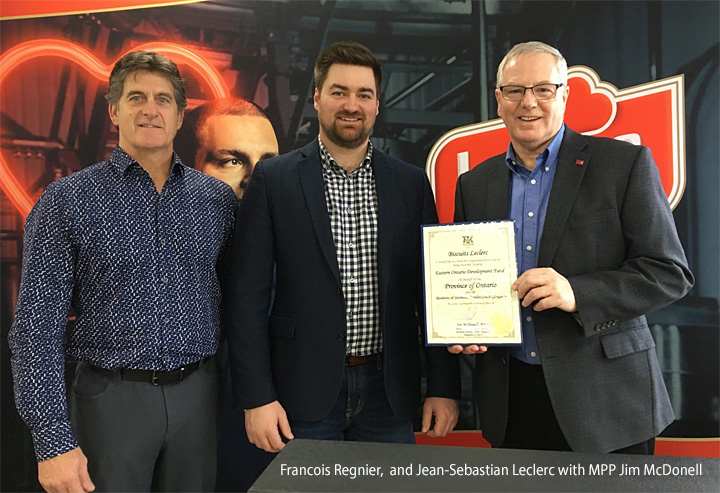 The investment is being sourced from the Eastern Ontario Development Fund, and will support the installation of new equipment which will significantly improve efficiency and production capacity.  The equipment will also allow less trim to be discarded, thereby reducing waste. The end result will be a state-of-the-art production line that can produce 1,200 bars per minute.
The project will create 59 new jobs and is expected to be completed by September 2022.
"Ontario's government is committed to the success of our regions," said Jim McDonell, Member of Provincial Parliament for Stormont—Dundas—South Glengarry. "Through investments like these, we're creating an environment where businesses in every corner of our province can focus on what they do best — developing great products and services and building successful companies. It's great to see Leclerc Group invest in Cornwall, while creating jobs and strengthening the regional economy."
Leclerc established its new facility in the Cornwall Business Park earlier this year.
"We are grateful for the support and collaboration we have received since our arrival," said Jean-Sebastien Leclerc, Vice-President Co-Manufacturing and Manufacturing Structure of Leclerc Group. "The investment announced today demonstrates, once again, the relevance of our decision to implement our eighth plant in Cornwall, a strategic location within North America, which will allow us not only to increase our productivity, but also to be an important player in creating new jobs."
The Eastern Ontario Development Fund is part of Ontario's recently launched Regional Development Program.
Employment Opportunities
Available jobs with Leclerc can be found on the ChooseCornwall.ca Job Board.
About Leclerc Group
Founded in 1905 by François Leclerc, Leclerc Group has grown impressively over the past 30 years, with more than 1100 employees and eight ultramodern processing plants today. The Canadian plants are located in the François Leclerc Industrial Park in Saint-Augustin-de-Desmaures and the towns of Hawkesbury and Cornwall in Ontario. The U.S. sites are in Montgomery, Pennsylvania; Kingsport, Tennessee and Phoenix, Arizona. The company specializes in cookies, snack bars and crackers and exports to over 25 countries. Leclerc is known as an innovative company attuned to the tastes and needs of informed customers who care about the food they eat and like to treat themselves to life's pleasures. More info can be found on the company's website:
Photo courtesy of Shawna O'Neill and the Seaway News.