Leclerc Group to Establish Production Facility in Cornwall
September 10, 2018
Cornwall Ontario –  Leclerc Group, a North American leader in the snack food manufacturing industry, will be establishing a new production plant in Cornwall Ontario, with plans to begin production in the spring of 2019.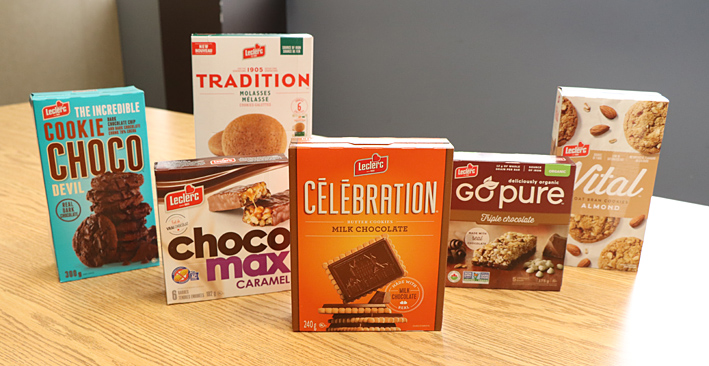 "Cornwall offers a strategic location within North America, and this new facility will allow us to continue to grow our operations," said Denis Leclerc, President of Leclerc Group. "We firmly believe that it is our people that allows Leclerc Group to stand out from the big multinational food companies, and we look forward to welcoming Cornwall people to our team.".
Leclerc, a thriving family company, manufactures cookies, snack bars and crackers for distribution to more than thirty countries all over the world.
Leclerc Group has continually invested in its Canadian facilities, (two in Saint-Augustin-de-Desmaures QC and one in Hawkesbury ON), with state‑of‑the‑art production equipment. While these three plants are destined for growth in the near future, ongoing company success warranted the purchase of a 160,000 sq.ft. building in the Cornwall Business Park.
This future production site will be high-tech and devoted to some of the niche products Leclerc proudly prepares for its clientele.
"We are very pleased to welcome Leclerc to Cornwall," says Mayor Leslie O'Shaughnessy. "This is a major investment in the City, and one that will have a positive economic impact on the entire region."
Employment Opportunities
Available jobs with Leclerc can be found on their website, or on the ChooseCornwall.ca Job Board.  Leclerc will also be exhibiting at the Cornwall Job Fair at the Cornwall Civic Complex on Wednesday, October 3rd.  Company officials will be on hand to meet with job seekers.
About Leclerc Group
Founded in 1905 by François Leclerc, Leclerc Group has grown impressively over the past 30 years, with more than 1100 employees and eight ultramodern processing plants today. The Canadian plants are located in the François Leclerc Industrial Park in Saint-Augustin-de-Desmaures and the towns of Hawkesbury and Cornwall in Ontario. The U.S. sites are in Montgomery, Pennsylvania; Kingsport, Tennessee and Phoenix, Arizona. The company specializes in cookies, snack bars and crackers and exports to over 25 countries. Leclerc is known as an innovative company attuned to the tastes and needs of informed customers who care about the food they eat and like to treat themselves to life's pleasures. More info can be found on the company's website: