Leclerc Growing its Workforce in Cornwall
August 3, 2021
Cornwall Ontario – Leclerc is looking to grow its workforce as it expands production at its state-of-the-art production facility in Cornwall.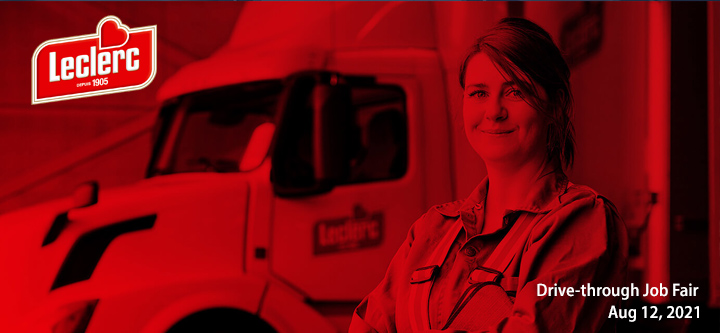 The company is looking to hire an additional 11 workers in August and will be holding an on-site drive-through job fair on Aug 12th from 10am to 3pm, rain or shine, with a guaranteed follow-up call to everyone who drops off a resume. Job seekers will also receive a treat for everyone in the vehicle. An additional cohort of workers will be hired in late September as the company adds a 3rd shift later this year.
"Leclerc utilizes the very latest in food processing technology, with a focus on quality and food safety, so working here is both exciting and rewarding," says Nicole Bissonnette, Human Resources Business Partner with Leclerc.
The company is looking to fill the following positions:
Production Operators
Maintenance
Sanitation
Continuous Improvement
Leadership
Leclerc established the 160,000 square foot facility in the Cornwall Business Park in 2019 and has steadily expanded production. It currently employs 60 people in Cornwall.
"We firmly believe that it is our people that allows Leclerc Group to stand out from the big multinational food companies," says Denis Leclerc, President of Leclerc Group.
Job Fair Details
The drive-through job fair will held at the Biscuits Leclerc Cornwall Plant, located at 525 Education Road in the Cornwall Business Park. Job seekers are invited to come by August 12th, 2021 (Rain or shine) from 10am to 3pm and drop off their resumes while remaining in their car. Leclerc will have COVID precautions such as social distancing, sanitizers, symptom checklist, etc. in place.
Employment Opportunities
Available jobs with Leclerc can be found on the ChooseCornwall.ca Job Board.
You can also view a video on the Cornwall Leclerc plant.
About Leclerc Group
Founded in 1905 by François Leclerc, Leclerc Group has grown impressively over the past 30 years, with more than 1200 employees and eight ultramodern processing plants today. The company specializes in cookies, snack bars and crackers and exports to over 25 countries. Leclerc is known as an innovative company attuned to the tastes and needs of informed customers who care about the food they eat and like to treat themselves to life's pleasures. More info can be found on the company's website: