Let There be BRUNCH on Pitt
November 28, 2019
Cornwall, Ontario –Mike Crites and Troy Paquette are about to realize a lifelong dream as they prepare to open their new restaurant.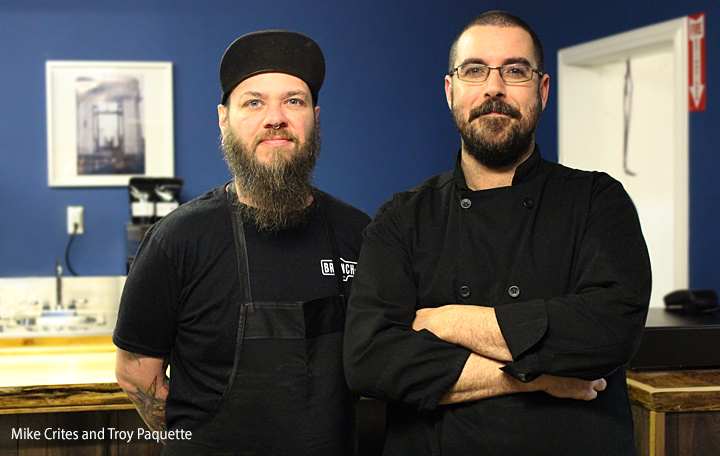 BRUNCH on Pitt opens on Wednesday December 4th at 8 am.
The newly renovated restaurant will feature a fast and affordable breakfast and lunch with a bit of a twist. The focus will be on quality yet simple ingredients, elevating tastes and textures, resulting in a quality menu.
"Our philosophy is to use excellent technique to elevate simple ingredients to make fine-dining quality affordable and approachable to all," says Troy Paquette, Co-owner of BRUNCH on Pitt. "Basically, honest scratch cooking with fast friendly service."
Breakfast and lunch menus will be structured with a focus on value but patrons will have options to enjoy seasonal local products in the form of regular specials. Java lovers will be treated to fresh, locally roasted beans that will be offered two different ways. First, in traditional fashion, offered free with breakfast orders. The second will feature a special bean of the week, curated and hand-ground in a single-serving french press.
The restaurant's full menu will be available throughout the day, offering customers home-cooked meals regardless of their schedule. Takeout will also be available from day one, with plans to branch out into online pre-ordering in the near future.
"We want to make fast simple and delicious food and drinks available to people that are up early or on their way home from an overnight shift," says Michael Crites, Co-owner of BRUNCH on Pitt.
Crites and Paquette, who were born in Cornwall, left to spread their wings in the culinary field. With a combined 40+ years of experience in the restaurant and hospitality industry, Crites and Paquette are back home to share their love of food and to have a positive impact on the city they call home.
"We will be having a "First Responders Special", say Crites and Paquette. "Whether it be Fire, Paramedic, or Police, all emergency first responders will be given priority service and discounts to get them back taking care of the city with a great meal as soon as possible."
Hours of operation will be:
Monday – Friday: 6:00 am to 3:00 pm
Saturday & Sunday: 8:00 am to 3:00 pm
BRUNCH on Pitt is located at 537 Pitt Street in Cornwall. They can be contacted by phone at 613-935-6397 or online:
Facebook: https://www.facebook.com/BRUNCHonPitt/
This story originally appeared on the Cornwall Business Enterprise Centre website.
About the Cornwall Business Enterprise Centre
The Cornwall Business Enterprise Centre is operated by Cornwall Economic Development in partnership with the Ministry of Research & Innovation. It provides information and support to entrepreneurs during start‐up and growth stages of business operation, in addition to holding a number of seminars and workshops on timely topics.