Life's Little Pleasures Expands Its Footprint In Downtown Cornwall
June 14, 2022
Cornwall Ontario – One of Cornwall's favourite retailers has a new location – and the larger store has allowed for a stylish expansion of its hip lineup of clothing, home décor and gift items.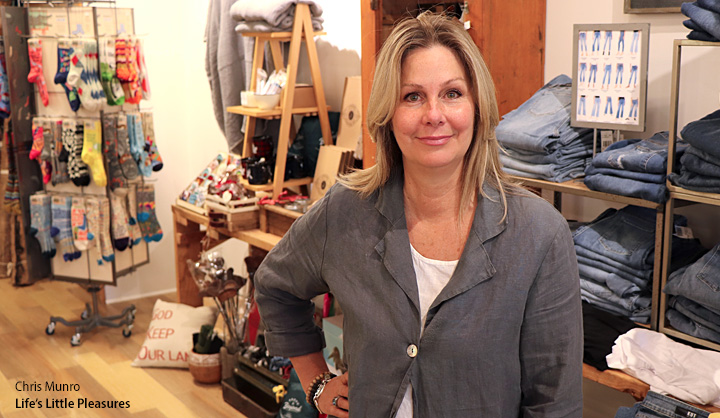 Life's Little Pleasures has moved closer to the river to 54 Pitt Street, and owner Chris Munro has transformed the historic building to create a bright and welcoming atmosphere.
"The old store was cozy, but really limited what we could display," says Ms. Munro. "This new location offers so much more space for our customers to shop."
The store offers three times the floor space and Ms. Munro has added her own design flair to make the shopping experience all the more enjoyable. Bright lighting is paired with a number of items from Cornwall's past, including the iconic letters from Aube Frere's store sign. A table used in the Standard-Freeholder press room has been repurposed to display gift items.
"There is so much wonderful history in Cornwall – especially in the Downtown, and I want to celebrate it and incorporate it as we grow our business."
Life's Little Pleasures has built up a strong following of loyal customers, who can expect the same eclectic mix of items in the new store. These include an expanded lineup of casual linen clothing, jewellery from Canadian designers, leather goods, home décor accessories and self-care products including Ground Soap – made right here in Cornwall.
Of course a trip to Life's Little Pleasures would not be complete without perusing the ever-changing lineup of gift items – personally curated by Ms. Munro.
"I have a lot of fun choosing what items to carry – many of which are a reflection of my personality," says Ms. Munro. "Life can be hard sometimes and that's why I focus on items that bring comfort on some level, whether it's tactile, like a cozy throw or an outfit made of natural linens or bamboo…or emotional comfort like a humourous mug or nasty socks that crack a smile for someone having a bad day or going through a difficult life event."
"Life's Little Pleasures is exactly what the name implies."
Life's Little Pleasures is located at 54 Pitt Street and is open 5 days a week from Tuesday to Saturday, 10am to 5pm.  You can reach them at 613-933-8595 or online at: