Local Businesses Benefit from Digital Main Street Grants
September 25, 2023
Cornwall Ontario – Small business owners across the region have taken advantage of a program designed to help them digitally transform their business.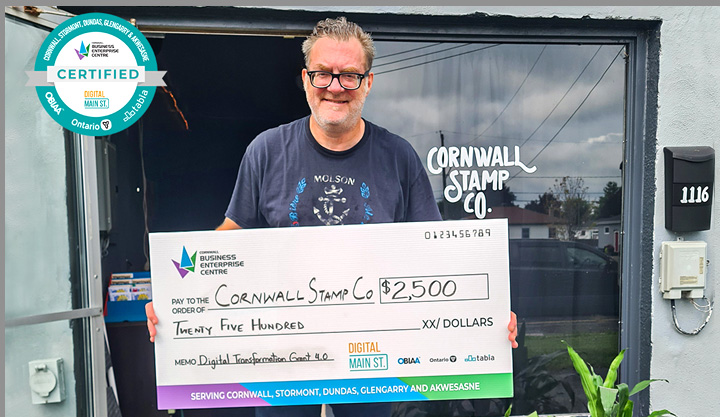 To date, more than 25 businesses have received a Digital Transformation Grant of $2,500.
"Small Businesses commitment to embracing digital technologies demonstrates their resilience and vision for the future" says Faiz Cheema, Digital Service Coordinator, Cornwall Business Enterprise Centre.
The Digital Main Street program is coordinated locally by the Cornwall Business Enterprise Centre. The program offers two resources to small businesses:
Digital Service Squads provide one-on-one help and technical training. Small business owners will receive targeted support to get started, grow their digital presence, and grow their business. Applications for this resource are now open.
Digital Transformation Grants of up to $2,500 to fund the implementation of digital strategies for small businesses.
The program is built around an online learning platform, structured training programs, grants, and Digital Service Squad teams of experts to help small businesses improve how they use digital technologies to promote and run their businesses.
Small businesses grantees include:
Essential Kitchen
Rush Hour Escapes
Seaway Crafters
Chesley's Inn
Cornwall Stamp Co
Bicycle World
WB Hub
All Intentions Matters
Doll House Lashez
Pick N Chews
4-Wheel Punjabi
Tru Smile Denture
Violets Vault
The Port Theatre
Crayon Box Collective
Attic Treasures & Florist
Cameron's Point
Waikato Pizza
MacDonnell Family Physiotherapy
Mr Zee Balloonies
Activkare
Ground Soap
Poptronic
Simply Baked
Abeerden Gift
Balanced Massage Therapy
Cornwall Desi Mart
Prestige Cuts
The DMS program has given small businesses the confidence to use the digital tools available to support their businesses.
"I was trying to design a website forever, but didn't have the skills or the funds to hire someone," says Alex Adra, Owner of Waikato Pizza in Maxville. "The Digital Transformation Grant helped me get getting my business online"
Intake Window Still Open
Small businesses in Cornwall & SDG have 5 days left to apply for the Digital Transformation Grant (DTG) 4.0, through the Digital Main Street (DMS) program. The Digital Main Street $2,500 Digital Transformation Grant closes September 30, 2023.  Eligible businesses can start the application process now by creating or entering their account, and then completing the digital assessment and online training through the Digital Main Street Portal at digitalmainstreet.ca
Businesses needing assistance to apply to the Digital Transformation Grant or wanting online digital support, contact the Cornwall Business Enterprise Centre at (613) 930-2787 ext. 2276 or faiz@cornwall.ca
About Cornwall Business Enterprise Centre
The Cornwall Business Enterprise Centre is a valuable resource for entrepreneurs and small business owners in Cornwall and the surrounding area. They provide support, guidance, and resources to help businesses start, grow, and succeed.