Local Businesses Stepping Up to Provide Safety Supplies
May 21, 2020
Cornwall Ontario – As more businesses begin to reopen from the COVID 19 pandemic, a number of local vendors are stepping up to provide the equipment needed to ensure safety once the doors swing open.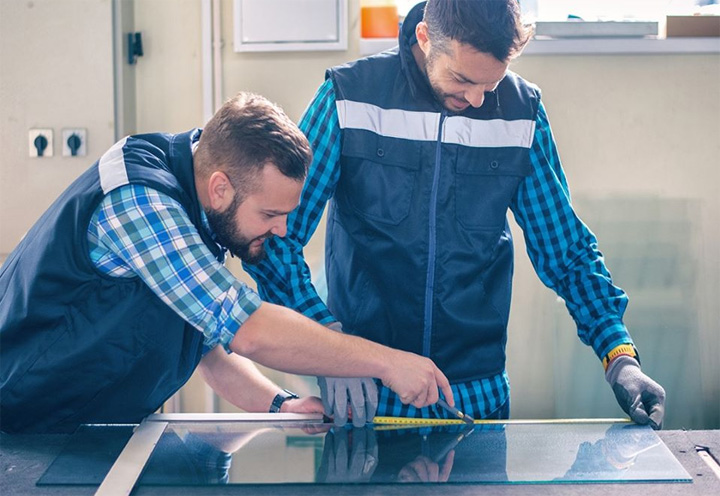 Businesses who have been given the green light to reopen are asked to follow public health guidelines focused on ensuring crowd control and physical distancing (You can download our Guidelines Tip Sheet here). This includes measures like adding signage, placing 6-foot tape markers on the floor, wearing masks, disinfecting high-traffic areas such as door handles and installing plexiglass barriers at cashier stations, among other things.
This has created a strong demand among local businesses – and a number of corporate neighbours have stepped up to meet the need.
Protective barriers
"The phone's been ringing off the hook," said Dan Dallaire of Cornwall Glass, which has been busy building and installing protective barriers at business counters around the city.
Dallaire said they've been busy building protective barriers for several weeks now, and they have even completed some jobs in Ottawa.
Cornwall Glass can build a plexiglass or polycarbonate barrier to suit virtually any need, and they've already fulfilled requests for everyone from grocery stores and pharmacies to professional offices and retail shops. They also have some custom sizes like a self-standing 28-inch by 36-inch barrier.
Cornwall Lighting and Home Décor is also producing plexiglass barriers in a variety of sizes and models.
"It's been busy and we've been getting a lot of calls given all of the demand out there," said Leon Sabourin of Cornwall Lighting.
The freestanding models with holes at the counter level have proven to be quite popular.
More info:
Cornwall Glass – 613-932-6703
Cornwall Lighting and Home Décor – 613-933-3131
Decals and Signs
"We're definitely seeing spots with all of the floor decals we have been printing," said Wendy Grant, owner and president of Cornwall City Press + The Sign Factory.
Grant and her team have a wide array of signage, wall and floor decals to suit any need, and they also have some pre-made templates ready to use at an affordable price. The signs can be created in a variety of materials and Coroplast has proven to be the most popular.
It's a similar story at Long Graphics where the crew is busy turning out Coroplast signs, floor decals and the like.
"We've done a lot of projects locally and we've even had some from out of town," said owner Rick Long.
Fellow Cornwall business Visual Vinyl is also busy producing items like signs and decals for local businesses, either pre-made or from scratch.
More info:
Cornwall City Press + The Sign Factory – 613-933-0444
Long Graphics – 613-936-0777
Visual Vinyl – 613-932-8318
Masks
When the COVID 19 pandemic struck, Tony Lacroix pivoted his business, The Kingslea, and created an online store to offer some of the products he carries in-store. He also took to making fabric masks in a variety of colours and patterns with a portion of the sales going to the local COVID relief fund.
"The feedback on the masks has been amazing," he said. "I offer designs for almost every taste and age."
Face coverings have become a popular commodity in the wake of COVID 19 and a growing number of businesses have stepped up to make or provide them to the community.
Sewing A+ on Cumberland Street is producing face masks in a variety of prints and colours along with children's masks, scrub caps and more.
Other businesses that sell masks include Cotton Mill Pharmacy, Mrs. B's Gifts & Home Décor, Cornwall City Press + The Sign Factory and The Coffee Shop.
Local creators have also turned their efforts to producing masks. Resident Amy Besner has been creating three-layer fabric masks with space for additional material for a filter. The masks are $10 each.
Meanwhile, Krista Ryan of Sassy Threads and Gabrielle Farley of GaBray Custom Design have been busy producing double-layer cotton masks for $5 each. Sew Simple Stitchery is another option for those seeking a homemade face covering.
More info:
The Kingslea – 613-933-8585
Sewing A+ – 613-932-3998
Mrs. B's Gifts & Home Décor – 613-937-0222
Cornwall City Press + The Sign Factory – 613-933-0444
Cotton Mill Pharmacy – 613-936-0000
The Coffee Shop – 613-932-4099
Amy Besner – 613-330-7212
Sassy Threads – krista@sassythreads.ca
GaBray Custom Design – gfarley64@hotmail.com
Sew Simple Stitchery – search on Facebook
Hand Sanitizer
"We've sold out of hand sanitizer a few times," said Julie Dennis of The Local Fill, Cornwall's zero waste and refill market.
Dennis said The Local Fill currently has loads of hand sanitizer in stock – made by a certified organic Quebec company – and it available on tap. There's a limited number of spray bottles remaining or clients can bring their own. The shop also sells bulk natural hand soaps in liquid and bar formats.
"(Sales of) that has increased lately for sure," she added.
Hand sanitizer has become a hot commodity, and a number of other businesses are helping to meet the need as well.
The Cotton Mill Pharmacy has custom-made hand sanitizer available in both liquid gel and liquid spray bottles (in addition to KN95 masks and blue surgical masks).
Meanwhile, Shah's Grill & Groceries is also selling hand sanitizer in 700 millilitre and 4 litre bottles and Mrs. B's Gifts & Home Décor also has some available.
More info:
The Local Fill – 613-935-4488
Cotton Mill Pharmacy – 613-936-0000
Shah's Grill & Groceries – 613-935-4111
Mrs. B's Gifts & Home Décor – 613-937-0222
Other Resources
You can find links to more Cornwall businesses on the Shop Local website:
In order to help businesses open safely, the Government of Ontario has developed an online resource called the Workplace PPE Supplier Directory to help Ontario businesses identify suppliers for personal protective equipment (PPE) that will support employees' safe return to work.

We summarize the latest news about the impacts of COVID-19 on Cornwall businesses on a daily basis. Click on the following link to view: