Love and Lee Awarded 2019 Win This Space
September 20, 2019
Cornwall Ontario – Beauty and brides will be descending on downtown Cornwall.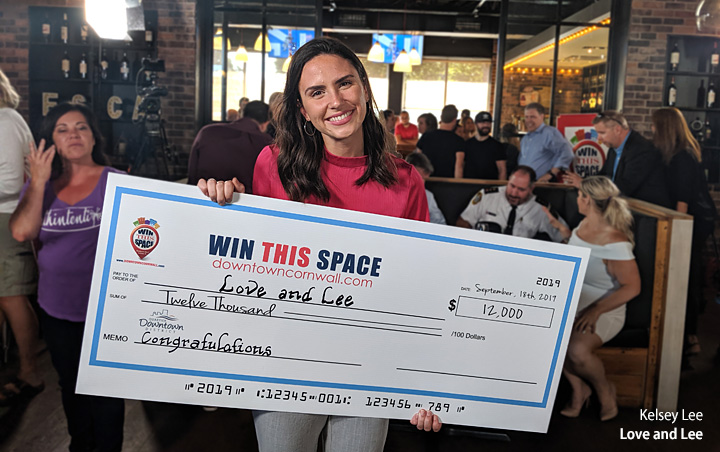 Love and Lee, headed by Kelsey Lee, was named the winner of the 2019 WIN THIS SPACE contest, sponsored by the Downtown Business Improvement Area.
Love and Lee, a bridal boutique that aims to be a one-stop-shop for any bride, will be setting up its new location downtown in the weeks ahead.
"I got so focused on this presentation today that I kind of forgot that there was a prize involved," said Lee, following the finale hosted at ESCA Gourmet Pizza+Bar on Sept. 18. "This is such a fantastic community and I'm just so thrilled with the outcome."
Win This Space will provide Love and Lee with $1,000 a month for an entire year to cover lease costs.
"We've proven that this concept works and we're so pleased with all of the submissions we received," said Martha Woods, chair of the Downtown BIA. "The final decision was incredibly difficult because of the strong field of finalists who worked incredibly hard on their business plans and presentations.
More than 20 submissions were submitted to the DBIA this summer, which were whittled down to five finalists. Presentations from the Happy Popcorn Co., Fit from Within, Tilly's Eatery, and Bathintentions were made to a group of local business professionals who scored the contestants on market demand, budgeting, polish and their fit downtown.
The Cornwall Business Enterprise Centre was instrumental in providing the finalists with the necessary training to make their proposals sing.
About Win this Space
Win this Space is a program developed by the Cornwall Downtown Business Improvement Area (DBIA) to help entrepreneurs secure a home in the heart of the city. Entrepreneurs can enter the program and compete for a chance to win the grand prize of $1,000 a month for a whole year to cover rent/lease payments. The inaugural winner of the program was Fairy Sweet, a chocolatier who opened a shop on Second Street just west of Pitt.
About the Downtown Cornwall Business Improvement Area
The Cornwall Downtown Business Improvement Area seeks to build and maintain a strong business area for the community, and promote the downtown area so downtown businesses thrive and prosper.