Love Sushi Opens in Cornwall
January 31, 2020
Cornwall Ontario – Love Sushi?
Sushi lovers in the Cornwall area can now enjoy the expanded offerings of Love Sushi, a new restaurant that has opened up at the Seaway Village Plaza.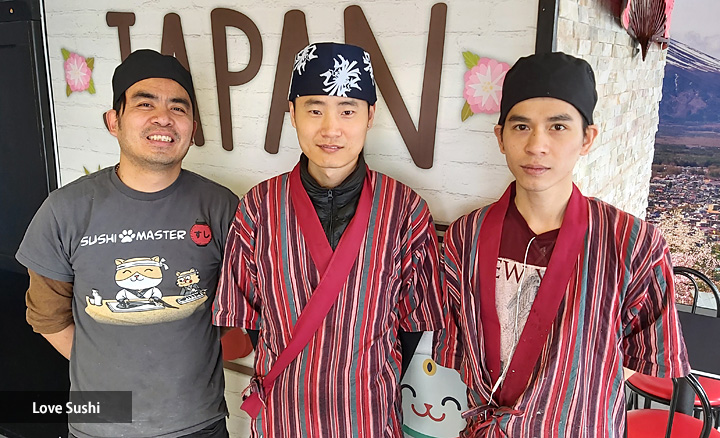 Love Sushi offers a wide variety of Japanese cuisine from miso soup to mochi ice cream – and of course sushi and sashimi. The menu lists over 200 options from appetizers to party trays.
"We are to happy to introduce Cornwall to our dishes which are made from the freshest of ingredients, while our customers wait," says Ken Lin, Manager of Love Sushi.
The new restaurant is bright and open and is colourfully decorated with Japanese art and offers seating for 18 patrons. Customers can eat in, take out or have their meals delivered.
Sushi is a Japanese rice dish often served with a variety of ingredients such as seafood, vegetables, and/or fruits. Styles of sushi and its presentation vary widely, but the one key ingredient is "sushi rice", also referred to as "sticky rice." Sushi is often served with pickled ginger, wasabi, and soy sauce.  Sushi is sometimes confused with sashimi, a related dish in Japanese cuisine that consists of thinly sliced raw fish, or occasionally meat, and an optional serving of rice.
Love Sushi offers both sushi and sashimi, as well as vegetarian rolls and bento boxes.
Love Sushi is located at 720 Fourteenth Street West and is open Monday through Thursday from 11am to 9pm, Friday and Saturday from 11am to 9:30pm  and Sunday from 12pm to 8:30pm. The restaurant is closed on Tuesdays.
You can reach Love Sushi at 613-936-8883 or online at: