Luigi's Pizzeria sets roots in Le Village
January 6, 2022
Cornwall Ontario – Looking for a slice of warm pizza to beat back the winter blues? Check out Luigi's Pizzeria, which opened in Le Village late last year.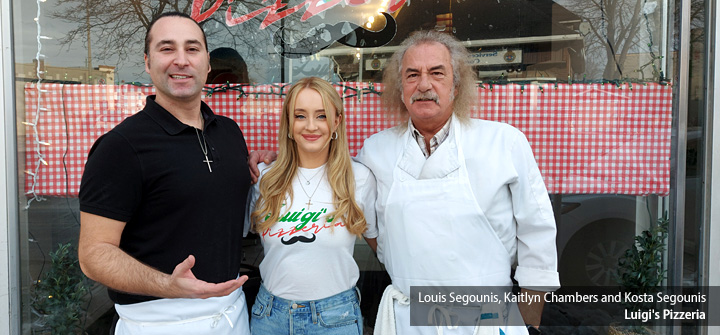 Luigi's Pizzeria is owned and run by the family team of Louis Segounis, Kaitlyn Chambers and Kosta Segounis. Originally from Montreal and residing in Waterloo for the past 15 years,  the younger Mr. Segounis cherished the opportunity to come to Cornwall to be closer to family and friends. The newest of many local businesses to startup in the Le Village district in 2021, Luigi's is the most recent addition to the rich tradition of Cornwall's pizza scene. Mr. Segounis is proud to share their passion with a community that appreciates good food.
"Cornwall has been great," says Mr. Segounis. "The community has been so supportive from the very start."
Inspired by 70 years of his grandfather Louis' recipes, Segounis is happy to share his family's culinary treasures. Locally bought, fresh ingredients are a Luigi's staple when preparing for each day.
"Nothing is precooked or prebought in our kitchen," he says. "We don't believe in selling somebody else's product. When you are eating here, you are eating at our table."
Aside from pizza,  the menu at Luigi's offers a variety of pasta dishes, subs, burgers and poutines. Platters are also available along with desserts and homemade milkshakes. Luigi's signature pasta and pizza sauces are made daily and are tried, tested and true recipes passed down from generations of the Segounis family.
"My grandfather always preached that if you don't eat it, you don't serve it," says Mr. Segounis. "This is a family operation where we cook it, we eat it, and we share it."
Additional information
Luigi's Pizzeria is located at 335 Montreal Rd. and is currently open Tuesday to Saturday 12 PM to 9PM and Sunday's 3PM to 9 PM. The restaurant can be reached at 613-937-0004 or online on Facebook:
Luigi's Pizzeria is one of many local businesses to be featured in the 2021 Year in Review Report. You can read the report here.