Lunch and Learn at the River Institute
May 4, 2019
Cornwall Ontario – Have lunch with a scientist.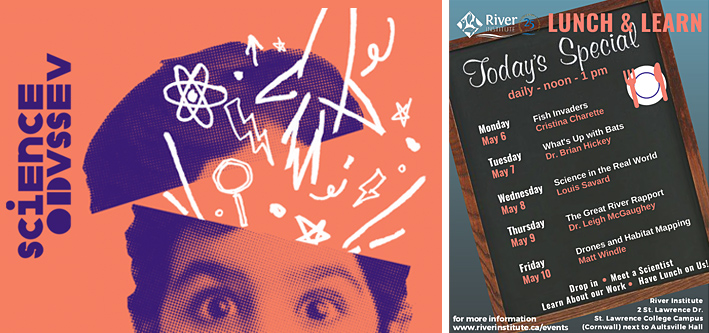 The River Institute is inviting members of the public to join research scientists for lunch, a short presentation, as well as a tour of River Institute in a series of seminars in early May. Talks will range from drones to invasive species and from fish to bats.  The seminars are free, River Institute scientists will discuss the research that encourages them to be passionate about science and why that sharing that science is making a difference to all Canadians.
It's all in an effort to shine a spotlight on science and invite people to be more curious about the world they live in. The seminars are also part of a nationwide celebration of  celebration of science, technology, engineering and mathematics called Science Odyssey.
2019 Science Odyssey Lunch and Learn Series
Monday, May 6, 2019:  Fish Invaders with Cristina –  PhD student Cristina Charette will describe her research on the impacts of invasive species round gobies on the river food web.  Live fish, specimens and sampling equipment will be on display.
Tuesday, May 7, 2019:  What's Up with Bats? with Dr. Brian – Research scientist Dr. Brian Hickey will discuss his work to restore bat populations and how citizen scientists can help.  Bat houses will be on display. Recovery of Ontario's little brown bat population will be the focus of this talk.
Wednesday, May 8, 2019: Science in the Real World with Louis – RiverLabs leader Louis Savard will describe ways that craft breweries, food waste recyclers, and other businesses use science to improve their efficacy.
Thursday, May 9, 2019: The Great River Rapport with Dr. Leigh – Research scientist Dr. Leigh McGaughey is addressing community concerns and questions about the health of the river. She will describe how ecological indicators are used as measures of ecosystem health, and describe ways people can get involved in The Great River Rapport – an ecosystem health report for the Upper St. Lawrence River.
Friday, May 10, 2019:      Drones and habitat mapping with Matt – Aquatic biologist Matt Windle will demonstrate how Unmanned Aerial Vehicles (UAVs or drones) are used to survey wetlands and map habitat in the St. Lawrence River.
All Lunch and Learn talks will be held at the River Institute.
About Science Odyssey
Led by the Natural Sciences and Engineering Research Council of Canada (NSERC), Science Odyssey brings together hundreds of fun and engaging activities across the country from Saturday, May 4 to Sunday, May 19, 2019. Events range from science in the streets, visits to labs, science fairs, talks and conferences, school field trips, encounters with scientists and engineers, special exhibits at museums and science centres, scientific events at community organizations, online activities, and much more.
About the River Institute
The River Institute is a non-profit, charitable research centre located in Cornwall, Ontario, Canada. Its mandate is research, education and community action relating to large river systems, with a focus on the St. Lawrence River ecosystem. A non-governmental organization, the River Institute works in partnership with a wide variety of individuals, groups, agencies and communities to fulfill its environmental mission.
Categorised in: Business, Community, Environment, General, News