MacDonell Family Physiotherapy Opens New Clinic
July 25, 2022
Cornwall Ontario – Kristen MacDonell has taken another step on her journey of helping people with the opening of MacDonell Family Physiotherapy.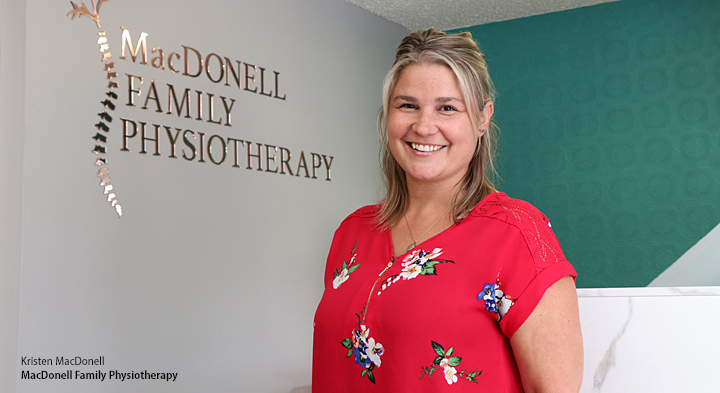 "The new clinic allows me to ensure that each client receives the type of care that I would expect for my own family members," says Ms. MacDonell. "Opening my own clinic has always been my dream."
Ms. MacDonell decided at a young age that she wanted to become a physiotherapist and her passion for the profession is undeniable.  After graduating with a Master of Science in Physical Therapy from the University of Toronto in 2009, Kristen gained extraordinary exposure to clinical care at Sunnybrook Health Sciences Centre, Toronto Rehab Institute and the Princess Margaret Cancer Centre.   As a passionate teacher and advocate she is a published author and has presented at various international symposiums.
The new clinic will offer a wide range of services and treatments, providing hands-on individualized care to assist with pain management, improving range of motion and/or strength, and supporting return to function or sports. Ms. MacDonell also offers a unique skill set supporting individuals with neurological conditions, those undergoing or recovering from cancer treatments as well as pediatric and youth rehab.
"We are pleased to offer services that supports clients from all age ranges from pediatric to geriatric," says Ms. MacDonell. "Physiotherapy can deliver results that positively impact well-being and dramatically improve quality of life."
MacDonell Family Physiotherapy is located at 812 Pitt Street (Unit 41) and is accepting new patients five days a week. Appointments can be booked by phone at 613 935 5550, by email to info@macdonellfamilyphysio.ca or via an online booking system.
You can reach MacDonell Family Physiotherapy online here: