Manufacturing Fundamentals Training program to begin in New Year
December 10, 2020
Cornwall Ontario – Looking for work?
The Eastern Ontario Training Board is recruiting once again for a Manufacturing Fundamentals Training program, scheduled to begin on January 11, 2021.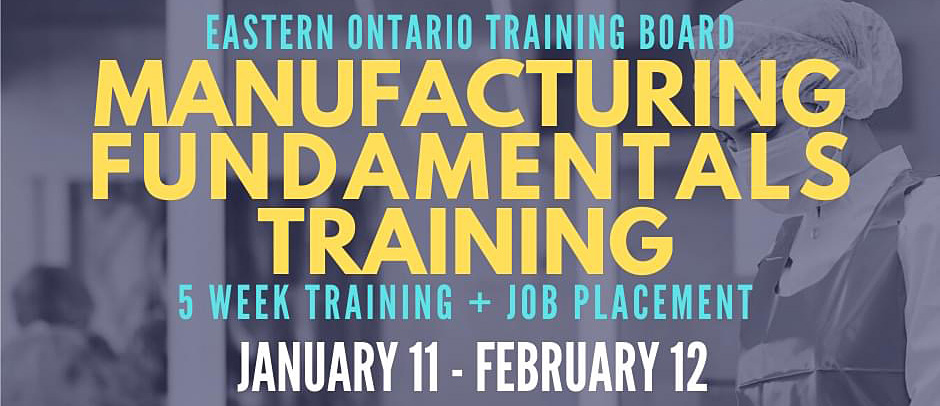 "The objective of the program is to provide people with real-world skills and experience that will lead to long-term employment," says Kimberly Hamilton, Operations Manager at Eastern Ontario Training Board.
The training program will run for 5 weeks. Classes will take place in-person at the Ramada Inn, delivered by St. Lawrence College. Classes include:
Introduction to Manufacturing, Quality
Intro to Technical Math
Safe Food Handling certification
Forklift, Lock Out/Tag Out
Psychological First Aid
Standard First Aid and CPR
Bullying in the Workplace
Stress Management in the Workplace and more
All participants will receive safety boots.
The Eastern Ontario Training Board will assist participants of the program in securing employment after the training. Funds may be available to assist participants with daycare and transportation while in training, and accommodations for the workplace, as needed and as funds are available.
Eligibility Requirements
To be eligible for the program candidates must:
Unemployed
Over 18 years of age
Not in full time education or training
Resident of Ontario (Cornwall, SDG PR and Akwesasne)
Legally entitled to work in Canada
How to Apply
Interested candidates are invited to contact Job Zone d'emploi for more information. Please call 613-933-9675.
About the Eastern Ontario Training Board
The Eastern Ontario Training Board (EOTB) was established to play a leading role in labour force development. It undertakes a number of projects throughout the year, and publishes the TOP report on local labour force issues. More info can be found online: