Mary Brown's Chicken Arrives in Cornwall
November 27, 2019
Cornwall Ontario – There is a new chicken in town.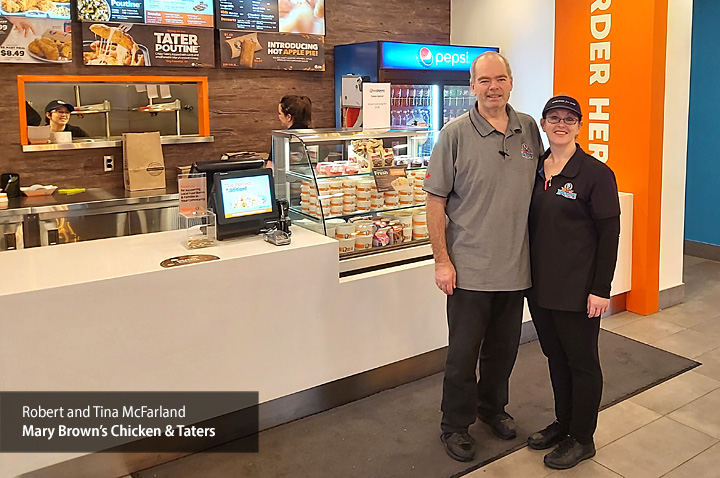 Mary Brown's Chicken & Taters has opened a restaurant on Vincent Massey Drive across from Archie's Golf Centre.
The Cornwall franchise is owned by Cornwall businessman Robert McFarland, who operates the business along with his wife Tina.  The restaurant opened a few weeks ago to rave reviews and offers a drive through along with seating for 65 people in a bright, tastefully appointed dining room.
"The renovations were extensive as we wanted to offer our customers a clean and comfortable dining experience to match the quality of our food," says Mr. McFarland. "Everything we make is made fresh from scratch, which ensures superior quality and perfect taste. This is real, wholesome, comfort food."
Mary Brown's chicken is local Canada Grade A, delivered whole and fresh to the store, where it's marinated, hand cut, hand breaded and cooked to golden brown perfection. The taters are farm fresh potatoes cut, seasoned and prepared by hand daily.
Mary Brown's has developed its very own proprietary cookers that seal in juiciness and prevent greasiness.
The local restaurant represents an investment of over $750,000 and provides employment to over 35 people. With the hectic rush of opening now behind him, Mr. McFarland is looking at becoming more involved in the community, and is exploring how he can work with local agencies to donate food and eliminate food waste.
"We believe in giving back and being a good corporate citizen," says Mr. McFarland. "Generosity is part of our corporate culture."
About Mary Brown's Chicken & Taters
Mary Brown's Chicken is named in honour of the woman behind the recipe. The first restaurant opened 50 years ago in St. John's, Newfoundland.. Word quickly spread and stores opened across the province. By 1972, the secret of Mary Brown's tantalizing chicken was spreading across Canada. Two stores opened in Ontario that and from there, growth expanded west to Alberta, back east to the Maritimes, out to the Prairies and more recently, all the way to British Columbia. Today, is Canada's fastest-growing franchise with over 155 Mary Brown's locations across the nation.
Cornwall Location
Mary Brown's Cornwall is located at 1718 Vincent Massey Drive. It can be reached by phone at (613) 932-0222.