Medical Arts Pharmacy Expands to New Premises
November 26, 2019
Cornwall Ontario – One of Cornwall's oldest businesses has a new location.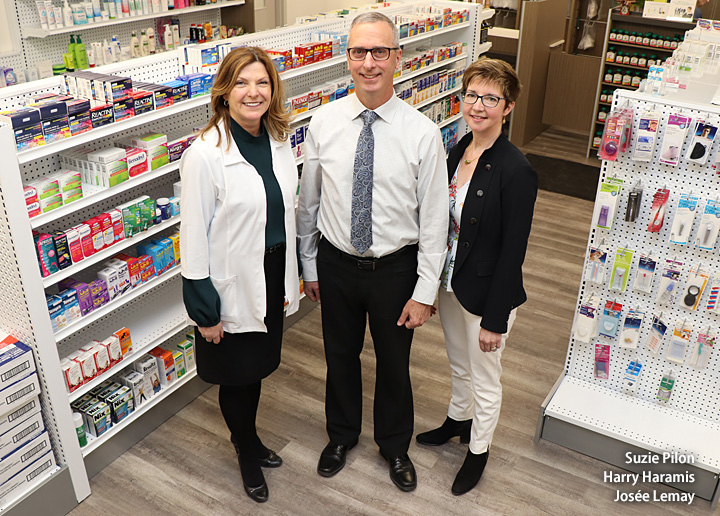 Medical Arts Pharmacy is expanding to larger premises in Le Village, but they are not going far. They have opened next door at 165 Montreal Road – 64 years after the pharmacy was established in 1956.
"The new space allows us to expand our services and better serve our customers," notes Suzie Pilon, who co-owns the business with two other pharmacists, Harry Haramis and Josée Lemay.
The bright new pharmacy offers more space, improved accessibility and significantly more parking at the rear of the building. It also shares space with a medical clinic operated by Dr. Tremblay and the Cornwall Health Team.
"The addition of a medical clinic is a natural fit with the pharmacy and helps create a one-stop destination for our customers," says Mr. Haramis.
Medical Arts is also offering travel consultation services for people considering exotic vacation destinations.
"It's all part of changing to better meet the needs of the community," adds Ms. Lemay.
Medical Arts Pharmacy is currently renovating its original building and was able to access some assistance from the Heart of the City Community Improvement Program. The company operates two healthcare business units:  the community pharmacy and a home nursing unit which serves long term and complex care facilities, retirement homes and the Cornwall Hospice.  Medical Arts also has a second pharmacy on Thirteenth Street, and at both locations it offers compliance packaging with state of the art robotic automation which allows less manipulation of medications by people.
Medical Arts Pharmacy is located at 165 Montreal Road and is open 6 days a week. You can learn more online at: