Mexi's Returns to Downtown Cornwall
March 10, 2021
Cornwall Ontario – An old – and beloved – foodie favourite is back in Downtown Cornwall.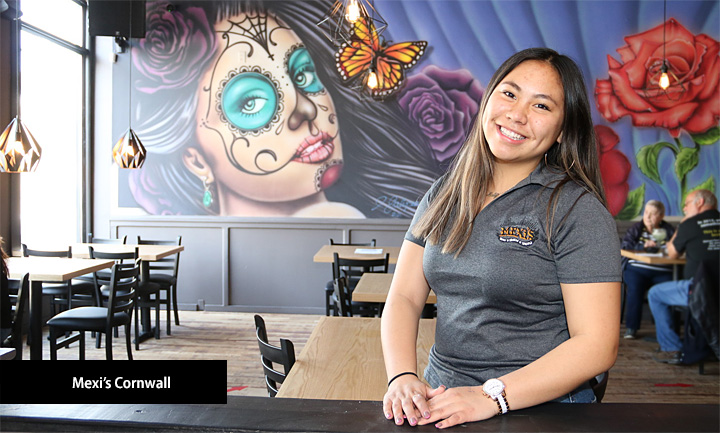 Mexicali Rosa's has returned to Cornwall, offering its unique mix of California-style Mexican food in the same building (58 Pitt Street) where it became a staple among locals and visitors some two decades ago.
The return of Mexi's actually began several months ago when building owner Yogi Patel began exploring the idea of opening a Mexican-themed restaurant in the space. When discussing the idea, he was often asked if it would be a Mexi's franchise, so he decided to explore the possibility. He spoke to Dimitri, the owner of three Mexicali Rosa's establishments in Ottawa, and the rest was history.
"He really wanted to open one here," Mr. Patel said.
The familiar establishment has been reworked with amazing wall art displays and other updates to give the space a cozy and eclectic feel. And the food is much like it was years ago – amazing.
"The response (since opening) has surpassed expectations," Mr. Patel added. "We have a lot of similar items on the menu (from before) and we are always looking to improve and build on it to give the customer the best quality and experience."
The local business owner said he's excited to bring the familiar brand back to Cornwall and be a part of the diverse and bustling restaurant scene that exists in Downtown Cornwall.
"I have a lot of faith in Cornwall, everybody is very supportive and they want to see us grow and succeed," he added.
The business currently has about 30 staff and Mr. Patel expects that number to grow to 50-60 once the patio season arrives (due to open end of April or early May).
Additional information
Mexicali Rosa's is located at 58 Pitt Street and can be reached at (613) 938-6394.
The restaurant is open Sunday to Thursday from 11 am to 9 pm and Friday and Saturday from 11 am to 10 pm.
The restaurant is open for dine-in (with Covid precautions in place) and is also offering delivery and takeout.
Mexi's is also available on Skip the Dishes.