Midnight Maker brings 3D Printing to Cornwall
November 27, 2018
Cornwall Ontario – The growing world of three-dimensional printing has found a home in Cornwall.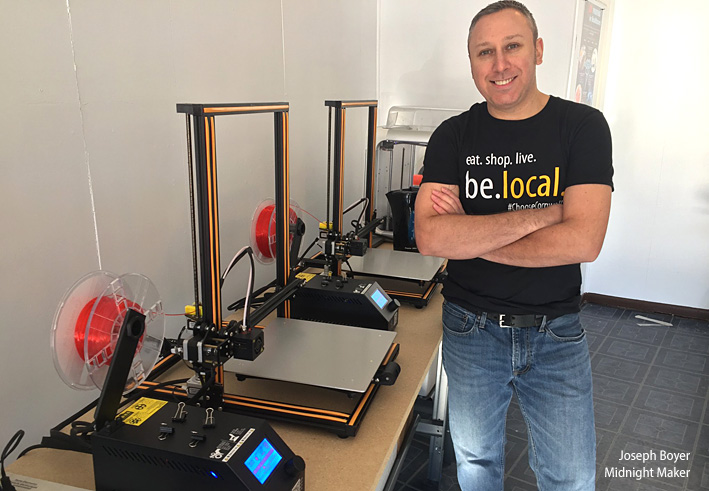 Midnight Maker 3D Printing Services is helping makers turn their ideas into actual creations from their storefront shop at 200 Montreal Road in Cornwall's Le Village district.
"We can take an idea from your head and build a functional prototype or product in a matter of days," said Joseph Boyer, the owner of the business along with his wife Jessica.
Midnight Maker recently invested in 2 new 3D printers which brings their inventory to ten printing machines that allow them to design and build the ideas that customers bring to them.
They can create a prototype or a final build from standard plastics to carbon fibre and even nylon.
The opportunities are practically endless. Replacement parts that may no longer be available can be made. Home décor items can be created to suit the individual. They can create moulds, a short run of a manufactured product, a one-of-a-kind gift and so much more.
They have also recently invested in a new scanner enabling them to offer faster scans as they will now do them "in-house".  Examples of items that they can now scan include car parts, mechanical parts, household items, store inventory for websites, museum pieces for catalogues, virtual reality purpose and more.  This will save customers money as they will no longer have to send things cross border.  Although they will continue to partner with US colleagues for larger parts.
"3D printing is, in my opinion, a second industrial revolution. It's already revolutionizing the way we practice medicine, design and manufacture goods, , provide décor and art for our houses and shops and finally, providing an alternative, cost-effective way to build everything," said Mr. Boyer.
Midnight Maker began as a home-based operation before moving to its current main street location on Montreal Road. Since opening, they have started a partnership with a 3D scanning company in the US and have hired three different design teams.
"We saw the demand and potential for this technology in our area. It is one of the fastest-growing industries worldwide," said Mr. Boyer.
Originally from Calgary, the couple have established roots in Cornwall, purchasing a home and raising a child in the City after graduating from St. Lawrence College. The passion for their business is evident from the many late nights and long hours they've put into it. It's actually where the business name came from.
"When we had our first initial big rush of orders, it was when spinners (fidget toys) were very popular," said Mr. Boyer.  "I'd often stay up most of the night to make and fill all of the orders we had.  That trend continued and I find myself working in the midnight hours almost daily."
In addition to the creation side of the business, Midnight Maker hopes to begin selling machines and filament from the shop in the near future. There are numerous other opportunities to explore, including partnerships with local schools and the college and introducing the technology to seniors and other demographics.
The business is open Monday, Wednesday and Friday from 10 am to 4 pm.