Mike's Printing & Apparel Awarded 2020 Win This Space
December 10, 2020
Cornwall Ontario – Mike's Printing and Apparel, owned by Mike Petrynka, will soon have a new storefront location in Downtown Cornwall.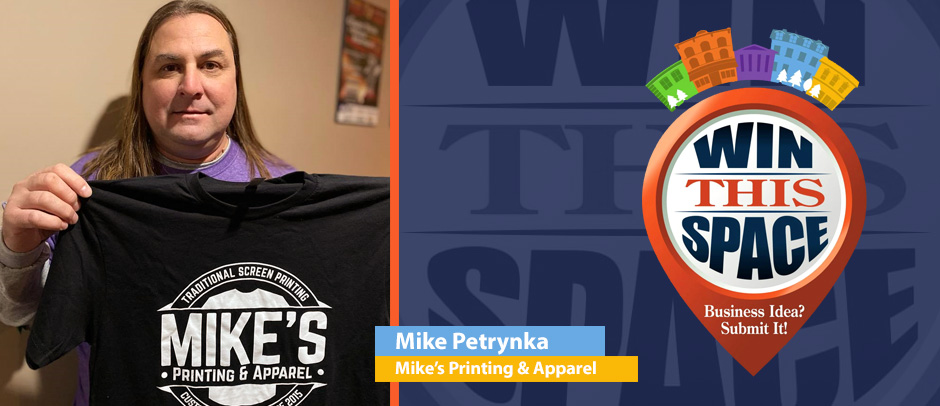 Mike's Printing and Apparel is the winner of the 2020 Win This Space contest, sponsored by the Downtown Business Improvement Area. This is the 3rd edition of the contest.
provides custom screen printing with low minimums, competitive pricing, artwork design and services.
"The business actually started out of a desire to design and screen print custom t-shirts as a hobby," said owner Mike Petrynka.  "People started to talk about us and interest just started to grow."
All garments are hand crafted on a four-colour manual press using inks that result in a very soft hand.  You can hardly tell it's there.
Mike's Printing and Apparel is currently a one-man operation so customers should expect direct contact with the person who is going to design and print your garments for you.  Working with your idea, creating your message and your art is part of the fun.  In the end, you receive great printed quality garments, done locally.
Having operated the business from home, Mr. Petrynka found that space was beginning to be a bit of an issue.  The idea of opening a store front was intriguing, and then the Win This Space contest was announced.
"I am extremely excited", said Mr. Petrynka shortly after his win.  "There are some excellent locations in Downtown Cornwall that are available in the new year.  This is a big move for us and to have the prize of $1,000 a month to put toward the rent for the entire first year, is really great!"
The Win This Space contest, now in its 3rd year, encourages budding entrepreneurs to submit their ideas to the DBIA, which are then whittled down to the finalists.  This year, Dragon's Den style presentations from My Vintage Soul and Mike's Printing and Apparel were made to a panel of local business professionals, who were tasked with scoring the presenters on market demand, budgeting, and other business acumen.   In the fall, the Cornwall Business Enterprise Centre provided participants with special training on business planning, financial forecasting and marketing.
Cornwall and the Counties Community Future Development Corporation (CFDC) also announced they would award all finalists with a $5,000 grant to develop a sophisticated e-commerce website through their Technology Innovation Program.
About WIN THIS SPACE
Win This Space is a program developed by the Cornwall Downtown Business Improvement Area (DBIA) to help entrepreneurs secure a home in the heart of the city.  Entrepreneurs can enter the program and complete for a chance to win the grant prize of $1,000 a month for a whole year to cover rent/lease payments.  Past winners of the contest are Fairy Sweet now located on Second Street just west of Pitt and Love and Lee, located on the East side of Pitt, near the corner of First Street.
About the Downtown Cornwall Business Improvement Area
The Cornwall Downtown Business Improvement Area seeks to build and maintain a strong business area for the community, and promote the downtown area so downtown businesses thrive and prosper.