Mini Trampoline Fitness at Spike Life in Cornwall
November 14, 2023
Cornwall, Ontario – Mini Trampoline fitness is a new way to work out in Cornwall, with the opening of Spike Life Supplements & Fitness Canada.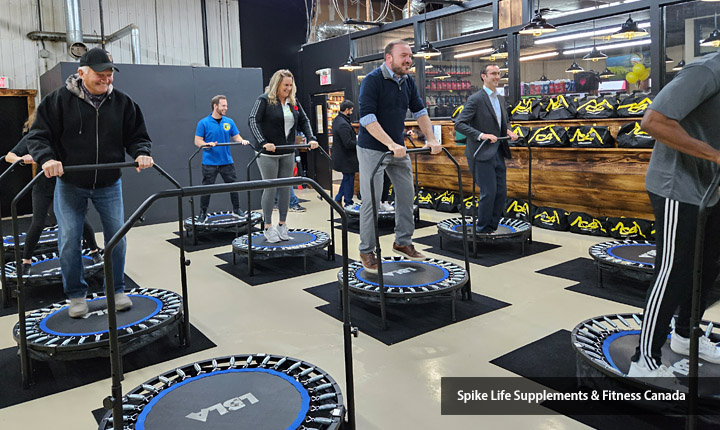 The health and fitness store, founded and owned  by Manon Guevremont and Stephan Couture, offers more than just a unique way to stay fit.  Spike Life also offers a wide selection of proteins, supplements, vitamins, and shakes. A shake bar allows you to create your own shake, this can be done in store or pre-order online.
The mini trampoline fitness studio is a first for the area. Classes are being offered for all levels, including children, teens, beginners and intermediate. Each of these classes are 45 minutes long with instructors choreographing. Memberships are offered for the different class levels.
"Whether you are registering for our Beginners or Intermediate class, you'll get stronger and firmer faster than most cardio classes," says instructor, Walter Jimenez.
The instructors encourage everyone to go at their own pace, so no need to worry if you are new to mini trampoline fitness. The exercise works all parts of your body, improves posture, burns calories to help you lose weight, and targets more muscle than many other fitness classes. It also helps strengthen the knees and joints (low-impact cardio).
Manon Guevremont has various locations throughout the Caribbean, and Cornwall is the first location to open in Ontario with more to come.
Spike Life Supplements & Fitness Canada is located at 900 Pitt Street. They are open Monday to Friday 8:00am to 10:00pm, Saturday 8:00am to 9:00pm, and Sunday 8:00am to 5:00pm. Mini trampoline fitness classes can be booked online, offering 6 classes daily.
Spike Life Supplements & Fitness Canada can be reached by phone at (613) 932-5433 or online at: