Minimax Express Transportation Seeing Success With New Divisions
December 18, 2020
Cornwall Ontario – Minimax Express is expanding its footprint in the fast growing logistics sector with the creation of two new divisions.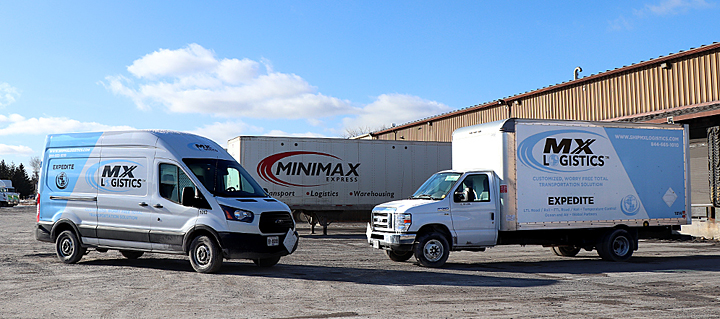 Last year, the transportation company opened a new logistics division called MX Logistics.  Over the past 12 months this division has experienced phenomenal growth, moving over 15.5 million pounds of freight around the world by: air, truck, train and ship. Initially starting as a one-man operation here in Cornwall, the business now supports 3 full time and 1 part time employees.
In 2020, Minimax launched an expedite division called MX Direct.
"MX Direct was created to meet the needs of our customers who required same day delivery of their freight," says Tom Sheahan, General Manager of Minimax.  "We have seen this business grow to include a dedicated fleet of vehicles moving cargo throughout Ontario and Quebec on an expedited basis."
In recent years Minimax completed a significant expansion to its headquarters in the Cornwall Business Park and has invested in new technology. Along the way the Minimax team has grown. The company's extended workforce of professional drivers, freight handlers, maintenance technicians and staff grew now numbers well over 200.
"We pride ourselves on having some of the most dedicated and experienced people in the industry," says Yves Poirier, President. "Along with growth comes the continuing need to recruit new drivers to our team."
You can watch a video about career opportunities at Minimax Express Transportation here.
About Minimax Express Transportation
Minimax Express Transportation began operating in 1991 with the goal of providing dependable next day LTL transportation services between Cornwall, Toronto and Montreal. Since then the company has expanded to include service centres in Toronto, Ottawa, Drummondville, Belleville and Kitchener. Minimax  Express presently operates 125 power units and 200 trailers.
Minimax Express was featured in the 2020 Year in Review. You can download the report via this article.