Mobile Labs to Offer Experiential Learning Workshops
May 6, 2022
Cornwall Ontario – St. Lawrence College will be rolling into local high schools over the next few weeks with their mobile lab.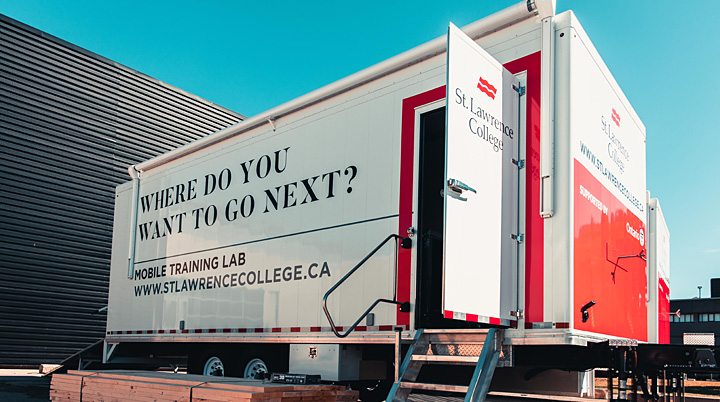 The College has partnered with the Upper Canada District School Board on a mobile training initiative that will see College representatives spend an entire week at 11 different schools that the UCDSB selected for the delivery of experiential learning workshops in Welding, Carpentry, Electrical, Culinary, Fitness, and Nutrition.  SLC will be using its two mobile training labs to help facilitate this delivery. The labs include all training infrastructure, equipment, tools, and technology (including virtual reality programming) required to deliver meaningful training workshops.
The mobile labs will be in the Cornwall region on the following dates:
Seaway District High School – Iroquois – Monday May 16 – Friday May 20, 2022
St. Lawrence Secondary School – Cornwall – Tuesday May 24 – Friday May 27, 2022
Tagwi Secondary School – Avonmore – Monday May 30 – June 3, 2022
Cornwall Collegiate & Vocational School – Cornwall – Monday June 13 – Friday June 17, 2022
"We invite local employers to contact us to arrange a visit so that they might see value in witnessing this programming unfold, says Jamie Puddicombe, Manager, Skills, Training and Economic Development at SLC.  "Our goal is to reach over 1300 students during this period, with an aim to inspire our next generation through hands on learning experiences."
Students who successfully complete a workshop will receive a micro-credential in "Real-World Learning" for the field of study that they have chosen to participate in.
In the fall of last year, the mobile labs visited Catholic District School Board of Eastern Ontario (CDSBEO) schools. These visits are part of an overall vision of using the mobile labs to deliver training opportunities in new and exciting ways.
"The labs can be used to transport the equipment necessary to do a number of different training programs in remote areas," says Mr. Puddicombe. "We can support workforce development projects for municipalities, upskill current staff right at an employer's place of work, train job seekers looking to gain new skills, and work with the next generation of trades workers to develop skills and interest."
About St. Lawrence College
St. Lawrence College is an integral part of the economic life and social fabric of Eastern Ontario, with campuses in Kingston, Brockville, and Cornwall. St. Lawrence College consistently ranks as one of Ontario's leading community colleges, preparing students for the global economy with relevant, practical, and experiential learning opportunities. Offering over 100 full-time programs, St. Lawrence College is a close-knit community of 10,000 full-time students and more than 100,000 alumni.
You can find out more information on the St. Lawrence College website: