NAV CENTRE to Expand its Workforce
September 5, 2018
Cornwall Ontario – Eastern Ontario's most distinctive conference centre is looking to expand its team.
"This facility has never been busier," says Kim Coe-Turner, General Manager of the NAV CENTRE. "Business is coming from a variety of different sources."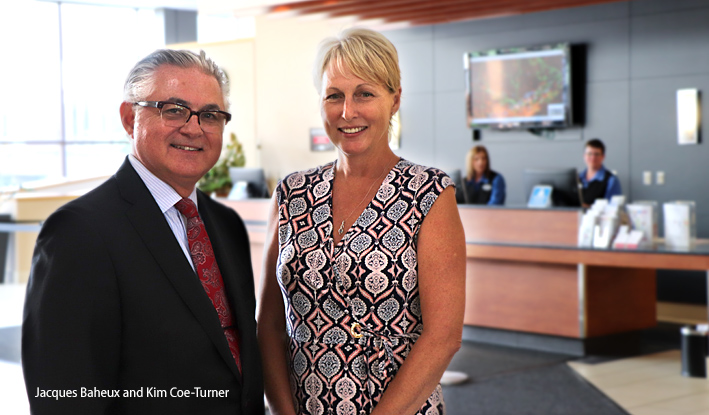 In fact, NAV CENTRE will be at capacity for 16 days in September, 17 days in October and another 16 days in November. That level of activity has prompted a recruitment drive that kicks off with a small job fair on Thursday September 6 from 1:00pm to 4:00pm. You can find many of the available jobs at NAV CENTRE on the Choose Cornwall Job Board.
"We have open positions in a number of departments and the job fair will help job seekers meet with staff first-hand," says Jacques Baheux,  NAV CENTRE's Director of Hospitality. "We are looking for energetic team members interested in a career in hospitality."
According to Ms. Coe-Turner, this team approach is a big reason why business is so strong this year.
"Our team has worked to build up business from the ground up, and that starts with the guest experience on site and our sales team who work with clients to plan successful events," says Ms. Coe-Turner.
One of those events is the Ontario East Municipal Conference which takes place at the NAV CENTRE next week. Over 500 community and business leaders from across Eastern Ontario will be in attendance, and will share the facility with some of the world's best curlers in town for the Shorty Jenkins Classic bonspiel.
NAV CENTRE has also made a number of strategic investments in recent years, expanding the amount of meeting space, renovating guest rooms, reinvesting in the Jet Set Pub, Propeller Restauraunt as well as organizing its own events such as the Wonderful World of Whisky and Beer, Bourbon BBQ and Blues festival.
Known as eastern Ontario's largest conference and meeting centre, the NAV CENTRE features 70,000 square feet of meeting room space along with 535 guest rooms, an indoor pool, gym, fitness centre and spa. The facility is located just steps from the celebrated Waterfront Trail which runs along the St. Lawrence River.  Earlier this year the facility was recognized as a 'top pick' executive conference centre – 1 of 12 in all of Canada and the United States.
"We continue to invest in the facility and attract top notch professionals to ensure the most positive experience for our guests," notes Kim Coe-Turner. "We look forward to continue to grow our business.
About NAV CENTRE
The NAV CENTRE is training and conference venue owned and operated by NAV CANADA. It offers access to 535 guest rooms, 70 state-of-the-art classrooms and meeting rooms, as well as an auditorium. Other amenities include a gymnasium and fitness facilities as well as multiple dining options. The NAV CENTRE is also an accredited member of the International Association of Conference Centres (IACC), provided for adhering to globally-recognized standards in hospitality service.