New Assistance Available from Digital Main Street Program
October 16, 2020
Cornwall Ontario – The popular Digital Main Street program is providing much needed assistance to small business owners to strengthen their digital activities.  There are 3 different streams that businesses are able to take advantage of, each with slightly different requirements. New to the program is a Digital Lab component.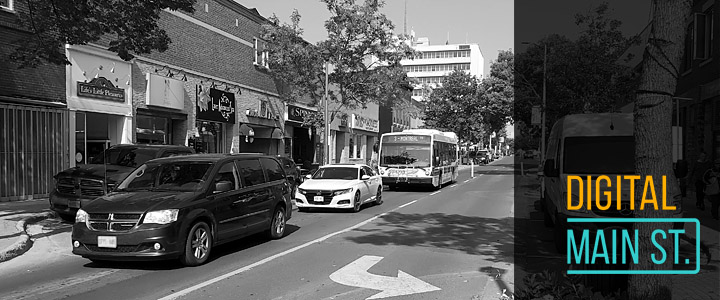 "I really encourage our small business owners to take a few minutes and consider these programs", said Candy Pollard, Business Consultant with the Cornwall Business Enterprise Centre.  "The assistance that will be provided can make a huge difference in a business, especially in these challenging times".
Many businesses have found success in pivoting their businesses to offer more online services and in selling products online.  The Digital Main Street program is designed to assist small business owners to navigate through the online world and strengthen their business and prepare for the future.
ShopHERE
This is a Shopify cart that will be set up on your webpage, for free, by a digital team. You will have 90 days to test the platform and see if it's the right fit for you and your online sales strategy. If it's working well and you like the interface, you can subscribe to their service, and if you don't like it, you can shut it down and not use Shopify. But it's a great opportunity to have a team set the site up and give you some time to experiment and see if it works the way you need it to work. The eligibility criteria for ShopHERE and application form can be found here:
Future Proof
This is the program that Launch Lab is managing for Eastern Ontario (on behalf of Digital Main Street and their partners at Invest Ottawa).  It provides a deeper level of support for the digital side of your business.  Teams of five students will be assigned to work on your marketing, branding, social media, and other digital aspects that you either don't have the time to do yourself, or the experience to build yourself. The Digital Squad will work with you to put together a service plan that will upgrade your digital footprint and leave you with some sustainable services and assets that you can continue to use down the road. You can see the eligibility criteria for Future Proof and sign up here:
Digital Transformation Grant
This one is a little tougher to get because of the eligibility requirements, but it is basically a $2,500 grant to help upgrade your equipment, bring in specialists, or upgrade your website to enhance your digital footprint.  Your business does need to be located in a Downtown Business Improvement area to be eligible.  With this program you will be required to complete a questionnaire and will be provided with an assessment (by email) with suggestions of activities that would enhance your digital footprint.  There are several short videos to watch that provide training so that moving forward you are able to implement great strategies for your online presence.  You can see the eligibility requirements and application form here:
Digital Lab
This program leverages relationships between technology companies and communities to pilot innovations that encourage transformational change along main street. Ideal pilot projects are ready to launch in a community and are scalable to other businesses and communities. Projects need not target challenges that have arisen due to Covid-19 but must be able to execute under current Covid-19 safety protocols.
Technology companies gain the opportunity to iterate a new or existing product offering with a main street sector partner which helps provide 'social proof' on the potential effectiveness of their solution. Communities gain new approaches to tackle sector-wide problems.
DMS support involves project advice, introductions, expertise, and funding up to $25,000 to pilot solutions to main street challenges. Pilot projects must include a community partnership with a confirmed pilot location to receive funding.
At the core of this project is the need to bring immediate and lasting improvements to our neighbourhood businesses, ensuring not only their survival, but foster an environment for them to thrive in a rapidly changing landscape.   You can see criteria and requirements here:
Digital Main Street Squads
The digital space provides a whole new world of opportunities for small businesses to expand and advance. Digital Main Street Squads are going live across the province to help more small and main street businesses go digital. The squads, composed of talented graduates and students with strong technology and marketing backgrounds, are providing one-on-one help with digital assessments, website creation, social media advertising, and e-commerce platforms.
Additional Information
Entrepreneurs are encouraged to contact the Cornwall Business Enterprise Centre with any questions they may have on the Digital Main Street Program. You can link up with them online: