New Automotive Training to Explore Innovation
September 6, 2022
Cornwall Ontario – Ready for a career in the automotive industry?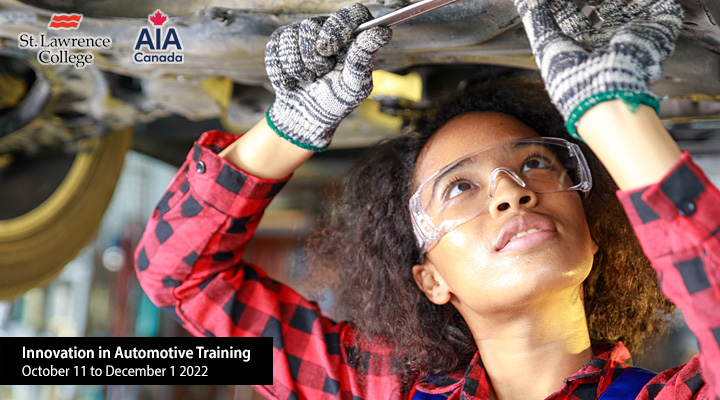 The Automotive Industries Association of Canada ( AIA Canada) is partnering with St. Lawrence College to deliver Innovation in Automotive Training –  a hands on training course to be delivered on the Cornwall campus this fall from October 11 – December 1.
"More Canadians  than ever are driving electric vehicles," says Beth Steel, Program Coordinator with AIA Canada. "This is an exciting free training course that has been developed to use the latest equipment and technology that is available."
The program is designed to allow people to explore the automotive trades with a focus on the emerging Electric Vehicle and Hybrid repair and maintenance needs. Participants will be exposed to not only the traditional sides of automotive repair and maintenance needs (tires, brakes etc) but also delve into the new diagnostic tools and systems that are required for today's automobiles like Automated Driver Assist Systems, (ADAS) and the batteries and electronics that are part of Electric Vehicle (EVS) and hybrids. Participants will have access to an extensive slate of state of the art equipment specific to EV and Hybrid vehicles in the hands on portions.
Training
Each course offers a combination of instruction in theory (classroom) and hands-on training in technical skills in the Automotive Lab at St. Lawrence College (Cornwall Campus). The course will take place Tuesdays, Wednesdays (1/2 day), Thursdays (1/2 day) from October 11 – December 1.
Financial Assistance
There is no cost to the program, however participants must register in advance. Financial assistance may be available for items such as transportation, day care, tools and work attire. Funding has been received from the Ontario Skills Development Fund.
Eligibility Criteria
Aged 18 and over
Unemployed or under-employed
Not in full-time education or training
Resident of Ontario, legally entitled to work in Ontario
Canadian Citizen, permanent resident or awaiting permanent residency, some special situations accommodated (Ukrainian)
Interested candidates should call Beth Steel at 613-246-4078 or email to beth.steel@aiacanada.com