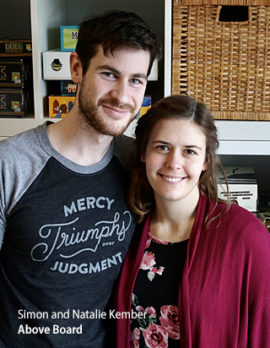 New Business Provides Space for Board Game Lovers
July 12, 2018
Cornwall Ontario – Hosting a game night can be a great way to connect with family and friends.  But what if you don't own any games, or you've gotten bored with the games you do have?
Simon and Natalie Kember have the solution for you with their new business, Above Board.
"Our vision for Above Board is that the space will provide people with the opportunity to share board games with friends and family and enjoy a smoothie or snack at the same time," says Simon.   "We very much enjoy meeting new people and we've found that food and board games provide the perfect excuse to do just that."
Located at 627 Pitt Street, Above Board welcomes both avid and occasional board game lovers, for a minimal cover charge.  Tables and chairs and a fairly large number of games are available to play with a few friends and family (ages 10+ please).  You may even be able to entice owners Natalie and Simon into a game from time to time!
"We have a selection of classic game favourites as well as some new and innovative games", says Natalie.  "We even have games that are perfect for someone who is coming alone.  And if you are unsure of the rules, we can help you out with that."
One popular event is Smorgasboard – an evening for people who are coming on their own or in a small group and want to meet other local players. The cost is only $5 per player, with a beverage included. Players must pre-register for one of the 10 available spots.
The variety and availability of games continues to grow, with new shipments arriving regularly.
Thirsty game lovers can also purchase a healthy Smoothie, Latte, Cappuccino, Tea or Iced Coffee to enjoy as you play.  A small section of snacks is also available, an offering which is expected to expand  as the business grows.
Regular hours of operation are Wednesday and Thursday from 2:30 to 9:30 pm, with occasional Fridays and Saturdays as posted on their website and Facebook page.
Small Business Success
Above Board is just one of dozens of small businesses that open in Cornwall each year. To learn more about starting your own business, check out the services of the Cornwall Business Enterprise Centre: