Cornwall Chamber of Commerce Welcomes New Executive Director
January 15, 2020
Cornwall Ontario – One of Canada's oldest business organizations has a new Executive Director.
Greg Pietersma, a small business owner and former school board chair, will help lead the chamber into the 2020s with a fresh perspective on local business issues and a keen interest in seeing the bottom line of the local economy improve.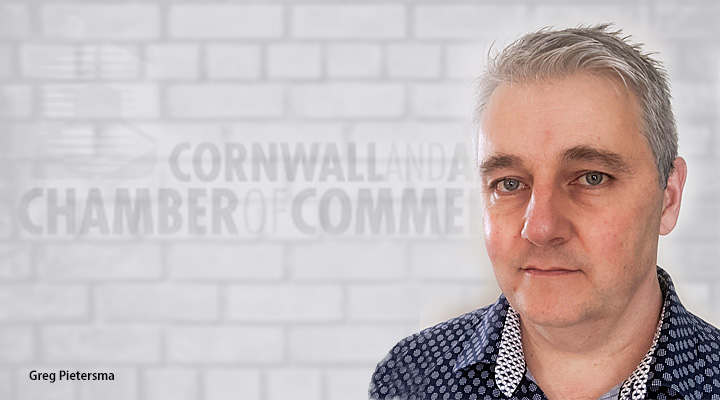 "After a thorough search we are excited to announce that Greg Pietersma is the new executive director of our fine organization," said Cornwall and Area Chamber of Commerce President Shannon Lebrun. "Greg brings with him some great ideas on how to take the chamber into the next decade to be an advocate for our local business community and improve the communication links between our members and the community at-large."
Born and raised in Dundas County, Pietersma has owned and operated a tinsmithing business for nearly 30 years. In addition to the successes of his business, Greg has enjoyed several years at Upper Canada Village, helping to grow its historical tinsmithing amenities as both a master tinsmith and a supervisor. He has a through understanding of government, after spending three terms as an Upper Canada District School Board trustee, which also includes eight years as chair of the board.
"I am thrilled to be joining the Cornwall Chamber of Commerce team," said Pietersma. "I admire the way Cornwall has worked to transform itself and am excited to be part of that process as Executive Director of the Chamber.
"I am keen to work with the Cornwall business community to grow the Chamber membership, represent their interests and support their businesses."
Mr. Pietersma is taking over from Lezlie Strasser, who held a similar role with the Chamber for 32 years.
About the Cornwall Chamber of Commerce
The Cornwall and Area Chamber of Commerce is the unified voice of the region's business community speaking towards growth, leadership and innovation. With direction from the elected board of directors, the Chamber looks to continuously progress the community through political advocacy, knowledge-based development and innovative opportunities. The Chamber has several hundred members.  For more information, please click on the following links: