New Course Offers Introduction to Manufacturing and Warehouse Trades
November 13, 2018
Cornwall Ontario – Job seekers can jump start a career in manufacturing with a new course offering from the Eastern Ontario Training Board and St. Lawrence College.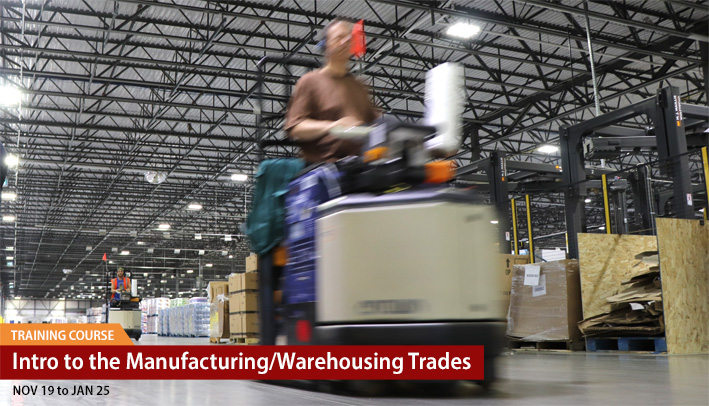 Called Intro to the Manufacturing/Warehouse Trades, the course is an 8 week full-time college level course along with a work placement in a manufacturing or warehouse setting.
"The objective of the program is to provide people with real-world skills and experience that will lead to permanent employment," says Sylvia McDonald, Project Assistant with the Eastern Ontario Training Board. "There are a number of manufacturers and supply chain companies currently looking to fill new open positions."
The program runs November 19 2018 to January 25 2019 at the Cornwall Campus of St. Lawrence College.
"There is  still room for more students" notes Ms. McDonald. "People who want to work but feel that they are lacking skills, education or experience are ideal candidates."
Accepted students will receive free tuition along with assistance with securing a 12-week placement within the industry. Some funding is available for supports such as transportation, child care, and work attire/equipment on an as-needed basis/as funding permits. Coaching  is provide throughout the training.
The Intro to the Manufacturing/Warehouse Trades Program is funded by Service Canada.
Interested candidates should present at Job Zone or GIAG to be referred to EOTB.  For more information, call 613 933-9675.
Course Curriculum
Health & Safety           

WHMIS
Occupational Health & Safety
Lockout Tag out
CPR/First Aid
Working at Heights
Safe Food Handling

Communication/Team Skills

Conflict Resolution, Critical Problem Solving
Interviewing/resume writing
Team Building, Communications

Operations

Trade Math
Intro to Manufacturing
Forklift Training
Intro to Computers

Quality

Quality concepts – Intro to Lean, ISO
Supply Chain Management
Eligibility Requirements
Have a valid SIN (Social Insurance Number)
Living in Ontario, Canada
Unemployed
Not in receipt of EI (Employment Insurance) currently or within the past 3 years
Have a self-identified disability
Ready and willing to work
About the Eastern Ontario Training Board
The Eastern Ontario Training Board (EOTB) was established to play a leading role in labour force development. It undertakes a number of projects throughout the year, and publishes the TOP report on local labour force issues. More info can be found online:
About St. Lawrence College
Located along the shores of the St. Lawrence River, St. Lawrence has College has three campuses in Brockville, Cornwall and Kingston. The College boasts 6,500 full-time students from Canada, and more than 40 countries worldwide. The SLC college community includes 20,000 part-time students, 1,000 staff, and more than 70,000 alumni. The college has recently invested in the development of Applied Research and the revitalization of its campuses.
You can find out more information on the St. Lawrence College website: