New Development Expected in the Cornwall Business Park
January 11, 2022
Cornwall Ontario – The Cornwall Business Park has never been more attractive to companies looking to invest in Eastern Ontario.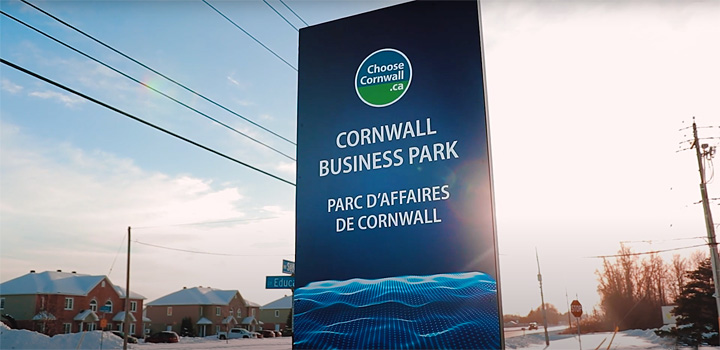 The City has recently sold over 150 acres and is working towards extending roads and services to accommodate new development.
"We are very happy to welcome new investment in the Cornwall Business Park, which will lead to new assessment and new jobs," says Mayor Glen Grant. "Council has worked with City administration to ensure that we maintain a ready supply of employment lands and this strategy is achieving the desired result of new development."
The Cornwall Business Park is located in the eastern part of the city, immediately adjacent to Highway 401. At well over 1600 acres, the Business Park is home to some of Canada's largest distribution centres, award-winning manufacturers, innovative food processers – along with some great transportation companies. Many of Cornwall's largest employers are located in the Business Park and are constantly reinvesting and expanding their operations. This activity has attracted to the interest of other companies, and along with near zero availability of built space, has meant that new investors are increasingly turning to building new facilities.
"Cornwall enjoys a strategic location in Central Canada with excellent transportation linkages which makes it ideal for logistics, manufacturing and food processing operations," says Bob Peters of Cornwall Economic Development. "The business community has dozens of companies and organizations that are in place to support new development, a willing workforce that can help a company meet its goals, and a friendly community that welcomes growth and investment."
Recent land sales provide a specified period of time for the purchaser to undertake due diligence efforts and as such development of the lands in question will take place over the next number of years.
About the Cornwall Business Park
Fully serviced land in the Business Park is currently for sale at $50,000 per acre, making it some of the most affordable land in Ontario. When you add in the fact that Cornwall has very modest development charges, the cost to develop a facility in the Business Park is truly a great incentive to build. The Park is zoned to include a wide range of manufacturing and commercial uses. There are approximately 200 acres of land available for sale. A detailed map and brochure of the Cornwall Business Park are available in PDF format by clicking on the links below.
Watch the video! https://youtu.be/eRmSL9sSgGM
This project is one of many to be featured in the 2021 Year in Review Report. You can read the report here.