New Employment Readiness Training for Women
July 11, 2023
Cornwall Ontario – An upcoming training program will equip female participants with the necessary skills, confidence, and resources to excel in today's job market.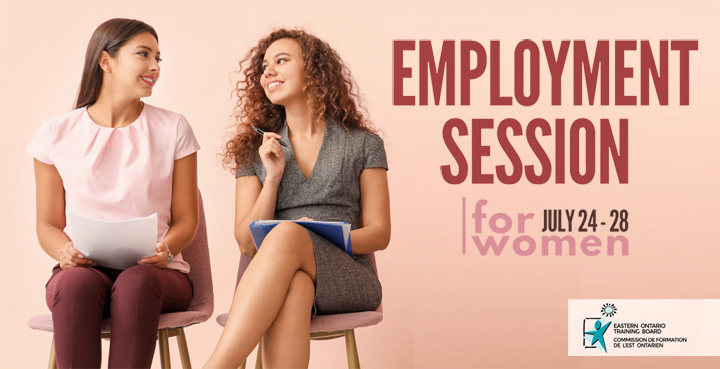 "Our Women's Readiness Program (WER) is designed to empower women to re-enter the workforce with confidence and success!" says Justine Viray-Levac, Assistant Coordinator with the Eastern Ontario Training Board. "We've also partnered with local employers who are eager to meet and interview potential candidates!
The program will be held July 24-28th at the EOTB Learning Lab in Downtown Cornwall.
The Women's Employment Readiness/Wage Subsidy Program offers the following benefits:
Job Skills: Covering essential skills such as resume writing, interview techniques, effective communication, and networking strategies.  Participants will gain the confidence and knowledge needed to present themselves as an ideal candidate.
Personalized Coaching: Our Project Coordinator and Job Developers will provide 1:1 guidance, helping participants identify their strengths, set achievable goals, and develop a personalized action plan.
Supports: Paid training, access to wrap around supports such as childcare, transportation, work attire, and counseling. PLUS, paid training, and completion BONUS!
Employer Interviews: An exclusive interview opportunity
Program eligibility requires that participants must identify as a woman, be unemployed or under-employed (under 19 hours) and be legally entitled to work in Canada.
EOTB runs a number of training and employment programs each year. You can find out more on the new EOTB training section of the EOTB website:
How to Apply
Interested candidates should call Job Zone d'emploi at 613-933-9675, GIAG at 613-525-1533 or Akwesasne Career &  Employment Support Services at 613-575-2626.
About the The Eastern Ontario Training Board
The Eastern Ontario Training Board (EOTB) plays a leading role in labour force development in the Cornwall region. It undertakes a number of projects throughout the year, and publishes the TOP report on local labour force issues. More info can be found online: