New Gift Shop Opens on Pitt Street
June 9, 2022
Cornwall Ontario – Shoppers in the Cornwall area have a new store to browse with the opening of Tickle Your Fancy Gift Shop.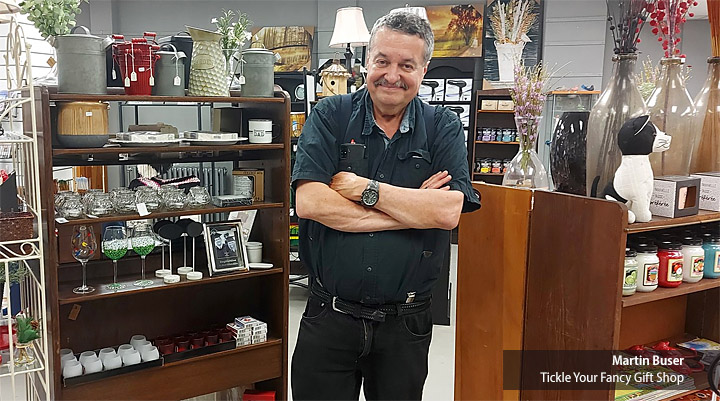 The downtown store carries a wide selection of local artisan products, home decor and unique gift items.  It is the retirement project of local businessman Martin Buser.
"This is a passion project and I am happy to be launching it here in Cornwall," says Mr. Buser. "Our space is in a great location and I think people will be pleased with what we have to offer."
Originally from Montreal, Mr. Buser has over 50 years of business experience in a variety of fields.  Thanks to family and friends he has spent a lot of time in Cornwall and is now happy to call it his home for this next chapter of his life.
The downtown space has been upgraded to make room for a large collection of local, regional and international products. Mr. Buser has brought in many different items including locally produced teas, maple syrup, charcuterie boards as well as crafts and jewellery created by Tyendinaga Mohawks and sweets and chocolate from Switzerland.
"The shop is meant to be happy and whimsical, hence our name," says Mr. Buser. "I wanted to offer a lot of different products so we have something for everyone in the store, and really wanted to support the talented local and regional makers."
Tickle Your Fancy also carries some Canadian made pine furniture and offers a unique build your own gift basket service. As the business grows there will be the opportunity for additional new staff positions.
Tickle Your Fancy Gift Shop is located at 225 Pitt Street. The store is open five days a week, Wednesday – Sunday from 10:30am – 6:30pm.