New Healthcare Training Program Now Available
September 13, 2022
Cornwall Ontario – Looking to break into the rewarding world of healthcare?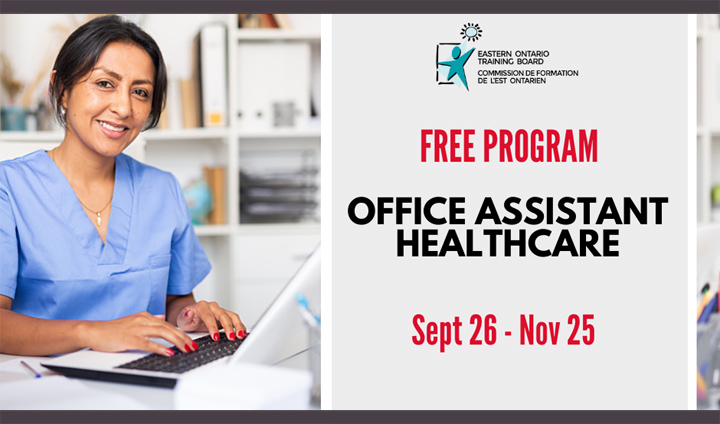 The Eastern Ontario Training Board is offering a free program entitled Office Assistant Healthcare, with instruction scheduled to begin on September 26 and end on November 25.
The course offers a combination of instruction in technical skills and theory, covering the following topics:
Medical Terminology
Business Math
Communications
Healthcare Office Procedures
The training course is offered online – laptops can be made available if required.
Financial Assistance
EOTB will purchase training on behalf of eligible candidates – there is not cost to the participant.
Eligibility Criteria
Participants must meet the following eligibility criteria:
Unemployed or under-employed
Ontario resident of Cornwall, SDG, PR or Akwesasne
30 years of age or younger
Identify as a woman
Have a self-identified disability
Legally entitled to work in Ontario
Interested candidates should call Job Zone d'emploi at 613-933-9675, GIAG at 613-525-1533 or Akwesasne Career &  Employment Support Services at 613-575-2626.
About the Eastern Ontario Training Board
The Eastern Ontario Training Board (EOTB) plays a leading role in labour force development in the Cornwall region. It undertakes a number of projects throughout the year, and publishes the TOP report on local labour force issues. More info can be found online: