New Intake for Starter Company Plus Program
March 1, 2023
Cornwall Ontario – The Starter Company PLUS program is once again open for applications.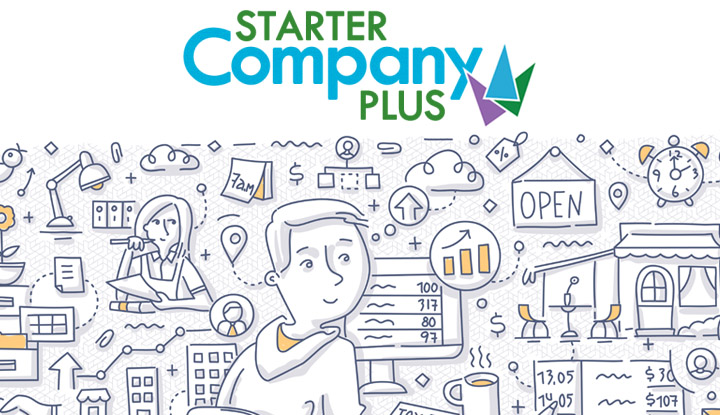 A new intake of applications has been announced by the Cornwall Business Enterprise Centre (CBEC), which administers the program on behalf of the Government of Ontario.
The Starter Company Plus program is open to residents of Cornwall, Stormont, Dundas, Glengarry and Akwesasne who are 18 years of age and older. The training program offered in the spring and fall provides participants with access to a full range of valuable information sessions designed to help entrepreneurs start, grow, or purchase an existing small business. This assistance comes in the form of educational webinars, skills development, mentoring from local business leaders and ultimately potential access to capital.
"There are a number of successful small businesses throughout the region that have taken advantage of the training and networking opportunities the Starter Company Plus program offers," said Shauna Baggs, Business Consultant with the Cornwall Business Enterprise Centre.  "We work closely with entrepreneurs to create a solid business plan, start-up budget and a two-year financial forecast."
Intake Now Open
Applications will be accepted from March 1st to March 31st, 2023, and can be found online through the Cornwall Business Enterprise website.
Throughout the 10-week program CBEC staff work with participants to help develop business knowledge and skills to ensure entrepreneurs have the tools they need to create and sustain a successful business. Through a partnership with the Ministry of Economic Development, Job Creation and Trade the Centre is able to financially assist eligible participants with a possible micro-grant up to $4,500.
The grant is rewarded to applicants at the end of the program through a Dragon's Den-style presentation to local expert grant panel. Last year 15 local businesses received grants.  A complete list of successful Starter Company Plus grant receipts can be found on the Cornwall Business Enterprise Centre website.
ACCStarter Micro-Loan
The grant program is highly competitive and starting a business is expensive. In order to further support all participants a new partnership with ACCFutures will offer Starter Company businesses who have completed the program an opportunity to apply to the ACCStarter micro-loan program.
"We want to give entrepreneurs the ability to use debt financing as a tool in their business," says Greg Pietersma, Executive Director of ACCFutures. "The ACCStarter micro-loan will empower small businesses by providing additional financing to launch successfully."
Under the ACCStarter micro-loan program, small-and-medium-sized enterprises (SMEs) will be able to access a low interest loan of up to $7,500 upon approved credit. This funding will help leverage e-commerce opportunities, purchase equipment and open up cash flow and will be an excellent complement to the existing Starter Company Plus grant.
More Info
All interested new small business owners are encouraged to visit the CBEC website for more information:
Background
The Starter Company program was launched in 2014 to support younger entrepreneurs and then re-launched in 2017 as Starter Company PLUS – opening the program to a much larger demographic. Since inception, the Cornwall Business Enterprise Centre has worked with over 200 participants and has helped to distribute over $600,000 via in micro-grants to local entrepreneurs across the region.
Quick Facts
Entrepreneurs starting, growing, or purchasing a business in Cornwall, Stormont, Dundas, Glengarry and Akwesasne, can apply to the Starter Company PLUS program by submitting a program application to the Cornwall Business Enterprise Centre.
To apply, participants must be an Ontario resident, 18 years of age or older, and no longer attending school.
Successful applicants may receive up to a $4,500 grant to help launch/purchase/expand their business.
Applications open March 1st, 2023, and close March 31st, 2023.
Click here for more details on the Starter Company Plus program.
About the Cornwall Business Enterprise Centre
The Cornwall Business Enterprise Centre has been operated by the City of Cornwall Economic Development Department since 1997 and is funded in part by the Government of Ontario. The Centre provides information and support to entrepreneurs during start‐up and growth stages of business operation. Seminars, workshops, and special events are held throughout the year, on topics of interest to various types of businesses. The Centre also administers the popular Summer Company program for student entrepreneurs and the highly successful Starter Company PLUS program.
The Cornwall Business Enterprise Centre is located at 100 Water Street East (Cornwall Civic Complex) and can be contacted by email at entrepreneurship@cornwall.ca: