New Investment at Flowers Cornwall
November 13, 2019
Cornwall Ontario – Things are growing on Pitt Street North.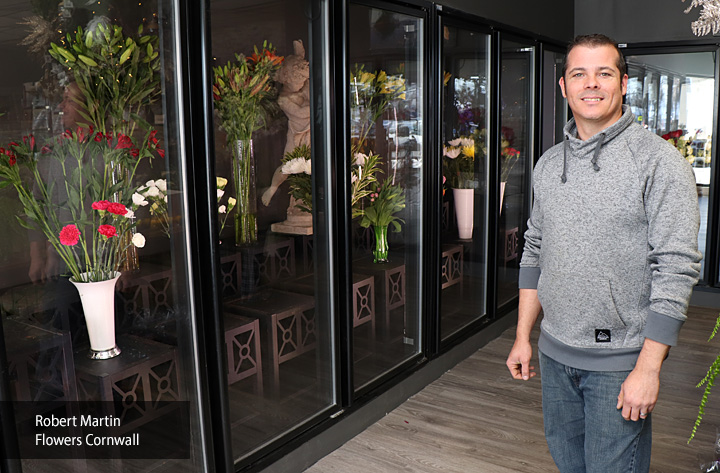 Flowers Cornwall has invested over $25,000 in an impressive remake of its store. A 12-door floral cooler system is at the centre of the renovations, offering improved viewing and access to cut flowers and flower arrangements. The state-of-the-art system creates a high-humidity, low-velocity environment that keeps floral arrangements looking fresher, longer. Other improvements include new hi-tech lighting and a new design area. The landlord has also chipped in, installing new flooring and new windows.
"The new look is modern and bright," says Robert Martin, owner of Flowers Cornwall. "Every decision we made was to improve the shopping experience for our customers."
The investment comes as Flowers Cornwall is celebrating 25 years of being in business.
"Our long-term success is due to how we deal with customers every day," says Mr. Martin. "We appreciate all of the support we have received over the years, and are happy to give back wherever we can."
Flowers Cornwall first opened its doors in 1994. The family owned and operated business supplies a wide variety of flowers, plants and custom designed floral pieces, offering delivery throughout the Cornwall region, as well as international destinations through F.T.D. And Teleflora wire services.
Flowers Cornwall also features a newly expanded gift section that includes cards, clothing, stuffed animals and even fresh Belgium chocolate, flown in on a weekly basis.
Flowers Cornwall is located at 1325 Pitt Street. You can reach them by phone at 613-933-9439 and online at: