New Look to Ramada Cornwall Improves Guest Experience
May 28, 2019
Cornwall Ontario – The Ramada Cornwall is ready to show off its new look to new guests and corporate clients.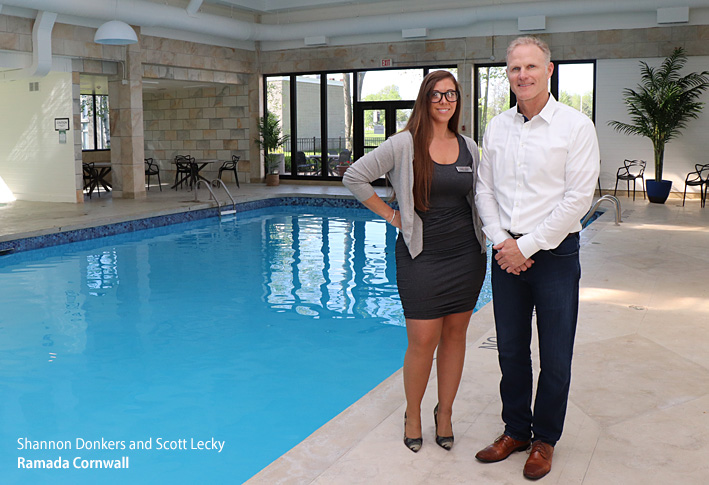 Renovations include new luxury suites, a new look to meeting rooms and an improved indoor pool experience.
"We pride ourselves on offering an amazing guest experience, and that means ensuring that the physical attributes of the property are top-notch," says Scott Lecky,  Owner. "We are constantly tweaking and improving our building and services, all with the goal of helping our guests enjoy their time in Cornwall."
Situated in a picturesque wooded setting, the Ramada Cornwall is a 112-room hotel offering a range of accommodations from standard rooms to luxury suites. The property has undergone a number of improvements over the past decade, helping it to be recognized in each of the past 4 years with the"Best Of"  Award by Wyndham Hotels & Resorts. The budget for the latest round of renovations is expected to top $700,000.
The hotel's largest meeting room, the Simon Fraser Ballroom, has been completely transformed into one of the region's most versatile and striking gathering spots. Large windows provide natural light into the room which completes a new ceiling, new flooring and a relocated bar area.  The room has been expanded to accommodate additional guests and a new link to the adjacent St. Lawrence Ballroom will allow event organizers to make use a much larger contiguous space.
"In addition to looking great, the new space offers more flexibility for special events and allows us to offer more options to our customers," says Shannon Donkers, General Manager.
Renovations also centred on the facility's popular indoor heated pool.  The pool recently reopened following several weeks of renovations while all major systems were overhauled and upgraded. The pool deck opens onto a charming outdoor patio, perfect for relaxing on summer day.
The modern welcoming look of the Ramada Cornwall is thanks to the interior design direction of co-owner Jennifer Lecky. Additional projects in the works include improvements to other meeting rooms and a new look to the building corridors.
About the Ramada Cornwall
The Ramada Cornwall is centrally located at 805 Brookdale Avenue, just minutes from Highway 401 and the International bridge. Adjacent to shopping and restaurants, the hotel offers ample free parking and is just minutes from Cornwall's downtown and waterfront. The Ramada is also home to a charging station for Tesla cars.
More info can be found online: